Posted 15th February 2017 | 1 Comment
Network Rail on track to save £14m a year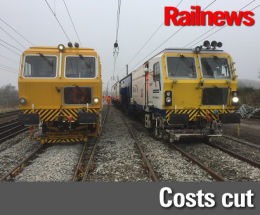 THE first 'formation flying' engineering trains in the world have been deployed successfully by Network Rail, and it is hoped that the technique will save the company at least £250,000 a week in compensation payments.
Until now, major maintenance schemes had resulted in a legacy of speed restrictions after a possession was over, because new track needed time to 'bed in'. The restrictions triggered payments to operators under delay attribution rules and could also delay passengers.
The pioneering technique was tried out on the East Coast Main Line in Bedfordshire this month, when switches and crossings were being replaced.
Two engineering trains were joined together, connected by an umbilical, and ran in parallel to simultaneously carry out tamping and dynamic track stabilisation which simulated the equivalent of 200 trains passing over the tracks.
When the possession at Sandy was lifted, passenger trains were able to pass through the affected sections at full linespeed straight away.
The news comes almost a year after Network Rail's first successes with 125mph (200km/h) 'high speed handbacks' in January 2016 on plain line, and NR has estimated that it has already saved more than £5 million.
Network Rail's programme director for track Steve Featherstone said: "We monitored the work at Sandy during the weekend and had progressive assurance throughout to make sure we built everything to the highest possible quality levels. This allowed trains to run at 125mph right away – the first time we've achieved this on a crossing.
"Our high speed handback journey started three years ago. We have been continually improving, systematically getting better at every aspect of what we do. We have progressively built the knowledge and competence to handback plain line, high output and switches and crossing renewals at 125mph, which will save Network Rail hundreds of thousands of pounds in reduced fees to train operators for disruption caused.
"Ultimately this is about passengers. Our new techniques mean we can hand back the railway safely on time, with no speed restrictions."
Reader Comments:
Views expressed in submitted comments are that of the author, and not necessarily shared by Railnews.