Posted 13th February 2017 | 3 Comments
Italian purchase of c2c franchise confirmed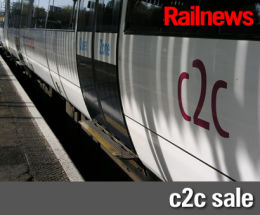 THE state-owned Italian train operator Trenitalia has completed its £72.6 million purchase of the c2c franchise from National Express.
The deal marks the end of National Express involvement in British rail franchising, at least for the time being, although the Group still has operating contracts in Germany and also retains the concession to operate Midland Metro trams.
Trenitalia is part of the FS Italiane Group, and will operate in Britain through a local subsidiary, Trenitalia UK. The purchase was announced in January, but had been awaiting formal approval from the Department for Transport.
No major organisational changes are planned, and c2c's managing director will continue to be Julian Drury.
Trenitalia has also formed a joint venture with FirstGroup to bid for the East Midlands and West Coast Partnership franchises.
Trenitalia CEO Barbara Morgante said: "I am pleased that we have been able to conclude this acquisition so rapidly, and we can now immediately start to concentrate on the day-to-day business of c2c. Under the leadership of Julian Drury, we will continue to focus on delivering the outstanding service that helped make c2c the best performing operator in the UK and we will collaborate with the management to introduce further improvements.
"In addition to the c2c acquisition, our recent participation in the East Midlands and West Coast Partnership bids shows that we are strongly committed to the UK market, and look forward to passengers increasingly benefiting from our experience, competence and ability to innovate.
"I am confident that the good relationship established with the DfT, demonstrated by our recent mutual cooperation during the Change of Control phase, will be strengthened and reinforced over the next years."
However, the deal has been criticised by the RMT. General secretary Mick Cash said: "Today's announcement is another stage in the take-over of UK rail by foreign states while the Tories ideological hatred of the public sector prevents the British state ownership of our railway. Profits are set be creamed off from the UK to pay for new trains and lower fares in Italy. That is a national scandal."
Reader Comments:
Views expressed in submitted comments are that of the author, and not necessarily shared by Railnews.
Wow; there was me thinking Mick Cash actually supported nationalised ownership of the railways.

Perhaps Mick ought to be a little clearer in the future about which nation actually does the owning !!!!

For once I agree with Mick Cash. This is a disgrace, especially as the UK Government is so opposed to public ownership!