Posted 24th January 2017 | No Comments
Timetables a 'work of fiction' says Transport Focus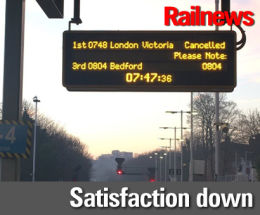 NEW statistics from the watchdog Transport Focus suggest that fewer passengers were satisfied with their journeys by train in the autumn months of 2016 than they had been a year earlier. TF chief executive Anthony Smith said 'the timetable on parts of London and South East's railway can be a work of fiction'.
Some operators such as Merseyrail and open access Heathrow Express have scored well, with 96 per cent of Heathrow Express passengers in the 'satisfied or good' category. The top scorer was open access operator Hull Trains, with 97 per cent. Merseyrail was only just behind, scoring the highest rating among operators who have a franchise or concession, with 95 per cent. Other operators with 90 per cent or more were Chiltern, Grand Central and Virgin Trains East Coast (all 91) and Virgin (West Coast) and London Overground (both 90),
Southern trailed the table with 65, having dropped by 12 points in a year during which services have been frequently disrupted by industrial action. Great Northern lost 7 points and scored 78, while ScotRail also lost 7 points to score 83.
Satisfaction as a whole declined by two percentage points from 83 per cent in autumn 2015 to 81 per cent a year later. Dissatisfaction was particularly focused on the three operators who have all had performance problems -- Great Northern, ScotRail and Southern. A strike of RMT drivers on Southern is taking place today while talks take place at the TUC between Southern and ASLEF in the continuing dispute over driver-only operation.
The RMT, which has not been invited to the discussions, has only 12 driver members on Southern who are not working today, while pickets have been deployed at Selhurst, Barnham and Brighton depots. Southern had hoped to run a full service in spite of the RMT strike, but the cancellation of one train from Brighton to London this morning was attributed to a driver shortage, provoking angry Tweets from some of the passengers affected.
Transport Focus chief executive Anthony Smith said "The results around the country are disappointing. Scottish passengers and those travelling in peak hours in London and the South East are bearing the brunt of poor performance.
"The timetable on parts of the London and South East's railway can be a work of fiction which passengers cannot rely on. As passenger numbers rise, parts of the rail network will remain brittle until welcome improvements are in place and working.
"Southern, Thameslink, Gatwick Express and Network Rail must continue to collaborate to produce a more robust timetable. Passengers need a better balance between peak and off-peak services, reliability and capacity."
Transport Focus added that satisfaction is significantly lower for those passengers that travel into London during peak hours. Punctuality, value for money and dealing with delays for peak time passengers are particularly low for certain companies. The list included punctuality on Southern (30 per cent), value for money on Gatwick Express (12 per cent) and dealing with delays on Southern (also 12 per cent).
The watchdog said its figures 'mirror the passenger experiences in a turbulent period affected by industrial action, reduced service levels and poor performance'.
Jacqueline Starr of the Rail Delivery Group said: "We know we must do better. We're sorry when customers don't get the service they expect, including those affected by strikes. Everyone in the railway is working hard to make train journeys better from start to finish.
"After decades of under-investment and with passenger numbers soaring to 4.5 million a day on thousands more trains, the railway is full in many places. Rail companies are working together to deliver more than £50 billion of improvements, including more than 5,500 new train carriages, to tackle congestion and make journeys faster, more comfortable and more reliable. While we build the bigger, better railway the country needs there will be some disruption."