Posted 21st November 2016 | 8 Comments
Scottish Government considers rail nationalisation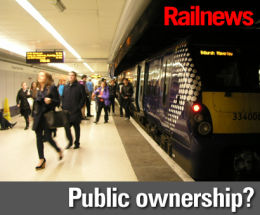 THE Scottish Government has signalled that it could be poised to terminate the present ScotRail franchise, which has been run by Abellio for the past 18 months.
The problem is mainly poor performance, which the ScotRail Alliance has attributed to the effects of major upgrades, particularly electrification schemes in the central belt. Alliance managing director Phil Verster has said carrying out the programme of improvements while still running trains is like 'performing open heart surgery while doing a marathon'.
Even so, transport minister Humza Yousaf said public ownership of the Scottish railway operator is now possible. One option to end the 10-year Abellio franchise early will come in 2020, when there is a 'break point' in the contract.
There could also be an opportunity for the government to act earlier if performance fails to reach minimum targets for three successive months, but that could open a debate about the causes of delays, and whether they are within Abellio's control.
First Minister Nicola Sturgeon told MSPs that the possibility of removing Abellio's franchise is being kept under review. Speaking on Thursday after problems in the Edinburgh area, she said: "I am sorry for the disruption that was caused this morning and also sorry for any disruption that any passenger faces on any day of the week. That is ScotRail's position and it is also mine."
ASLEF general secretary Mick Whelan said: "The Scottish government response to the rail crisis has been pathetic. Transport Minister Humza Yousaf has stood by while Abellio Scotrail takes Scotland's passengers and taxpayers for a ride."
But Mr Yousaf has firmly rejected a resignation call from ASLEF, saying he will 'most certainly not' be stepping down.
Abellio apologised for the problems in the Edinburgh area, saying it "can never stop striving to improve".

Reader Comments:
Views expressed in submitted comments are that of the author, and not necessarily shared by Railnews.
If I was the Minister I would lease the ex Abellio Greater Anglia 170's from 2019 when they become available. That would enable replecement of 158'S on the Borders route, replacement of the Fife locomotive services. 8 X 3 car & 4 X 2 car could provide 2 x 5 car peak hour Fife sets, 2 x 3 car for the Borders, replacing 2 158's that are used to enhance 170 Inverness services from the Central belt, and 4 X 3 car 170's to replace 158's thus enabling Scotrail to release 8 x 158's for use in Wales of England. The 32 170 cars would replace on a 2 for 1 basis helping reduce overcrowding and being stock that fitters know well would with greater reliability improve overall performance.

It seems to me that Abellio is being unfairly blamed for shortcomings out of its control. For instance, the problems with defective radiators on its class 158 units; an inherited issue that Abellio is attempting to rectify.
As for nationalisation; I can't see that resolving the current disruptions; in addition to which it would allow the trades unions to call blanket walk-outs that could see services cancelled across the entire network, something they've been itching for for ages.

Much of the current problems are caused by the over reaction of opposition politicians and the BBC. We do get access to English news in Scotland so we can see daily the issues with transport services in England however there is not the same expectation that services should be micro managed.
Plans are in place should should the rail service in Scotland fall below a certain standard.They have to be it's part of the contract.
The Scottish Government now have the power to run rail services if that is what is required. Hopefully though the media will back off and let the rail operators carry out the necessary repair work.
At the moment Scotland has no access to areas such as oil revenue or VAT with the opportunities hopefully soon to access this then Scotland will be in a better position to develop transport.

In 2020 Scotland will no longer be an EU member unless they declare independence, therefore EU laws will matter not to what they then decide.

Having said that, many EU countries cling to state run passenger rail monopolies with no apparent problem - France, Spain and Portugal to name but three.

If the EU forbids monopolies, why is it that nearly every EU state has a national operator, some of which are plying their services in Britain?

The reality is that the EU does not forbid rail monopolies, although it does encourage states to open up their markets to private competition. There would be nothing to prevent present legislation to be modified in the sense that Robert Adley wanted, i.e. allowing BR to apply to run services.

The irony here is that the SNP's beloved EU forbids the public sector from operating services in any form that would be a monopoly, as any rail operation covering the whole of Scotland would surely be save for the cross-border services. It's one of the excuses the government gave for giving up DOR on the ECML, and that was a route with some semblance of competition, at least south of the border.

Any operator taking charge of practically every service north of the border would be in breach of EU competition law - nationalisation is at odds with the current legislation, and that's not going to change. If even a supposedly admirable nationalised company like DB are being forced to concede more and more track access paths to other companies by the EC, what hope does Holyrood have of successfully arguing their case for nationalisation to Brussels?

So basically, Mrs. Sturgeon, your choice - stop being a spanner in the works and push for the legislation change in a post-Brexit UK, where you have a far greater chance of success, or break the rules of the EU Commission and face sanctions.

If the investment really is going in as stated, then there's bound to be disruption. With Public Expenditure likely to be cut even more due to the Government's deficit and reduction in Oil Revenues, the Sottish Government are in no position to take over anything.