Posted 14th October 2016 | 5 Comments
Rail passengers have been 'badly let down', say MPs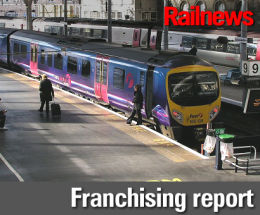 THE House of Commons Transport Committee has published a highly critical report of the state of rail franchising, which considers whether Govia Thameslink Railway is in default of its contractual obligations and also makes a number of key recommendations about franchising in general.
Train services are returning to many Southern routes today after three days of strikes by conductors in the DOO dispute, but the Committee said: "The proportion of services cancelled on GTR's network is now substantially in excess of the default level. In normal circumstances, this would be grounds for termination of the contract."
The RMT has also called for the GTR franchise to be ended, and wants an 'urgent meeting' with Government ministers. Its dispute over driver-only operation on Southern remains unresolved, with more strikes set to follow over the next couple of months.
In a new report, "The future of rail: Improving the rail passenger experience," the Transport Committee looks at many wider issues as well as the problems on GTR, and its verdicts are not encouraging.
It claims rail passengers have been 'badly let down by Government failure to structure, monitor and enforce franchise agreements and the planning and management of major rail infrastructure projects'.
The evidence was dominated by the problems faced by Govia Thameslink Railway passengers for more than a year. It has also identified "poor management of the franchise from the beginning; inadequate staffing; rolling stock issues, mismanagement and prolonged industrial action complicated by the huge Thameslink infrastructure programme".
Although GTR has made claims for 'force majeure', a legal convention which means external events can justify breaches of contract, the Committee says that crucial processes have been delayed by the 'tardiness' of GTR in supplying the information required to make the claims.
It also warns that the scrutiny of GTR's performance against its contractual obligations was made more difficult by lack of access to essential information, and is calling for this information to be made publicly available.
The Committee's opinion of the rest of National Rail is also low. It says 'on parts of the rail network, passengers struggle to get the service they deserve on a daily basis. Lack of access for disabled passengers, overcrowding, delays, complex ticketing, poor deals for part-time commuters, a lack of timely information on delays or updates available through websites, apps or wi-fi services -- add to the misery of passengers.'
The MPs have also cast doubt on the value of the official measures of passenger satisfaction, calling for operator performance measures which 'reflect the reality'.
The Committee's chair Louise Ellman MP said: "Passengers must be furious -- and rightly so. While the number of passenger journeys on the railway has more than doubled over the last two decades, the size of the physical network has barely increased at all. Passengers now contribute more than 70 per cent of the industry's real income, but in too many places, passengers are badly served by train operating companies.
"The individual voices of customers suffering woeful service on Southern Railway, in particular, came through loud and clear during our inquiry. GTR, RMT and the Government are all culpable to some extent for the prolonged dispute, but passengers have borne the brunt.
"We welcome Government's decision to launch a rail compensation scheme on GTR. It's taken ministers some time to acknowledge the difficulties faced by passengers, but the Delay Repay 15 scheme will offer compensation when trains are more than 15 minutes late. Now ministers need to be more hands-on with monitoring franchises and sort out the Southern Railway mess in particular."
Key recommendations:

o The Government should introduce an automatic compensation scheme immediately in which GTR passengers are refunded directly, without the necessity to make a claim
o The current systems of measuring passenger satisfaction should be reviewed and the Public Performance Measure should be abandoned. An alternative, which works in favour of updated 'right-time' measures, should be in use by summer 2017
o The Department for Transport should refine mechanisms to gather information on overcrowding with a view to more clearly identifying train services which operate overcapacity, and also develop a 'more coherent strategy' for tackling overcrowding and find better ways to alleviate the worst examples of persistent overcrowding on particular services
o A coordinated, industry-wide strategy should be prepared in order to provide network-wide smart ticketing by April 2017 and combat the unfairness and complexity of current arrangements
o A better deal for part-time commuters
o A detailed plan from ATOC/Rail Delivery Group to provide better websites and apps, accompanied by improved information from National Rail Enquiries
o WiFi throughout the network

GTR chief executive Charles Horton responded: "At first reading, our initial view is that the report covers many of the issues and challenges already in the public domain. We recognise and fully accept that our service on parts of the GTR franchise has not been good enough and we sincerely sorry to our passengers for that.
"Clearly, we've not got everything right in the past two years, but we've committed to making things better. While performance is still way below where we want it to be, it's good that the constraints of the redevelopment of London Bridge have been acknowledged and, also, the fact that performance was beginning to improve before the start of the dispute with the RMT.
"GTR has submitted claims for force majeure to the DfT caused by the unprecedented industrial action and we have co-operated fully with what's been asked of us at all times. We have been in discussions with the DfT to agree what and how they wanted to allow them to assess and evaluate our claims. It's an extremely detailed process which the report accepts is 'complex and painstaking'. These claims are currently being reviewed by the Department."
Jacqueline Starr, the Rail Delivery Group's managing director, customer experience, said: "The Rail Delivery Group will consider the committee's recommendations carefully. Train companies are already giving customers better information, particularly when there is disruption, and developing smarter types of ticket that are simpler to buy and use, but we know that we have to do more for our passengers.
"It's important to remember that we have a successful railway – Europe's safest and fastest growing – with thousands more services and passenger numbers having doubled in the last 20 years."
RMT general secretary Mick Cash maintained that the report was 'an indictment of the failure of rail privatisation and the government's record on Southern which has resulted in daily chaos and misery for passengers'.
He continued: "The report rightly argues that in any normal circumstances there would be grounds for GTR to have its contract terminated and RMT is calling again for this failed franchise to be taken into public ownership as soon as possible."
"We welcome the call for the government to engage with the rail unions and will be writing to ministers today to seek an urgent meeting." o oo
Reader Comments:
Views expressed in submitted comments are that of the author, and not necessarily shared by Railnews.
Are these these the same MP's who voted for the privatisation of BR back in the 1990s? and we all know(or at least people in the 'real world) that the main issue with overcrowding is the EU's open border policy,stiil at least the trains are running near empty back in Poland!
[No, of course not. MPs do come and go, you know. And the rest of your proposition is nonsense.--Editor.]

This article was mainly about problems being experienced in the south of England so why does it use a picture from the north?
[How jolly to receive another entry in the 'you can't win' category. GTR problems were certainly part of the picture, but the recommendations included: "The Department for Transport should refine mechanisms to gather information on overcrowding" -- and this (among a number of recommendations) referred to franchises everywhere. Passengers in the north have been particularly voluble about overcrowding, hence our picture of Newcastle. Had we used a picture of a GTR train (of which we have had far too many recently), we could have been accused of being 'London-centric' by readers elsewhere!--Editor.]

Franchising often works for enterprises such as McDonalds, as they operate in a competitive environment. Rail franchises, though are usually near- monopolies over their operating routes ; they therefore are subject to heavy government control in order to give accountability, in particular via fixed- duration, inflexible franchise agreements.

Franchising Works pretty well in normal British Industry. Many shops like McDonalds or local Plumbers for example are franchised and no-one could tell.
The Railways now have too many Customers and too little capacity and are therefore a classic case of Supply and Demand. Theoretically as increasing 'supply' is not very feasible in most cases (more carriages, double-deckers, more tracks) then the price should rise to 'choke' off excess demand. Not exactly a Vote Winner.

Franchising as applied to rail is a flawed concept anyway ; the whole idea of gaining accountability via government can't , and doesn't work.

Accountability could be more efficiently obtained either through effective market - force competition , where feasible ( intercity and long distance, generally speaking) or for captive market natural monopolies, such as Go Via Thameslink, through direct democracy. For these latter type of operation,each such could be run as a local cooperative, with management elected by local stakeholders . This management could then run the service directly or " farm it out" on a local concession or franchise and could also oversee other forms of local "captive market" public transport..