Posted 13th October 2016 | 7 Comments
Contenders named for next Welsh franchise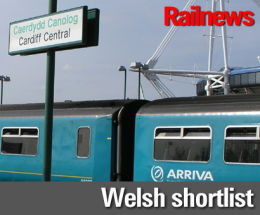 THE Welsh Government has chosen four possible operators of the next Welsh franchise, which starts in 2018 when Arriva's 15-year contract comes to an end. The aim is to create a 'not for profit' organisation, which the government said will be modelled on Transport for London.
The Government has selected Abellio Rail Cymru, Arriva Rail Wales/Rheilffyrdd Arriva Cymru Limited, KeolisAmey and MTR Corporation (Cymru) Ltd, all of whom will now move on to the next stage of the competition. A public consultation will also start in the New Year.
The successful bidder, to be known as an Operator and Development Partner, will run trains in Wales, assist with the evolution of the South and North Wales Metros and manage the transition to electric trains in several parts of the Principality.
Economy and infrastructure secretary Ken Skates said: "I am pleased with the way we are taking forward our ambitious plans to transform rail services in Wales. The new Wales and borders service from 2018 and the next phase of the Metro are part of an ambitious and creative not for profit model that we are building for Welsh rail.
"The rail network will be managed by Transport for Wales and I am pleased to be able to announce progress today on who will deliver some key services within that model.
"We now have four highly skilled, experienced companies entering the next, competitive phase and I am keen to hear more from them about what they can offer Wales and how they can deliver on our plans for integrated public transport.
"Over the next 10 years I envisage significant strides in the delivery of our public transport network including the electrification of the Swansea, Valleys and North Wales lines, a South and North Wales Metro and widespread structural improvements that are already in the pipeline.
"The priorities for the next franchise will include updated rolling stock, reduced journey times and the use of modern technology and approaches to deliver an improved service for passengers across Wales.
"I'm confident that we are putting the building blocks in place to deliver on our ambition and I look forward to working with these bidders in developing a high quality integrated public transport system for Wales."
It is expected that the contract will be awarded by the end of next year.
Reader Comments:
Views expressed in submitted comments are that of the author, and not necessarily shared by Railnews.
The most interesting feature of the next franchise specification will be around the services which extend into England. It makes no sense for the Welsh Government to run, and Welsh Money to fund, services in England, as it creates a dangerous lack of accountability and could either mean Welsh taxes unfairly subsidise English services, or the opposite and the Welsh operator under-funds English services due to the lack of accountability or remit for residents in England.

There was/still is talk of the removal/reduction of English services from the franchise, terminating all Aberystwyth-Birmingham trains at Shrewsbury is one example which was specifically discussed in a recent Welsh Government report which would perhaps be a natural development now with the recent introduction of extra Aber-Shrewsbury trains and promise of extra West Midland services to Shrewsbury in their next franchise.

More problematic routes are Cardiff - Manchester and Cardiff - Cheltenham however, Chepstow and Hereford are less convenient and less natural journey breaks - transfers to XC and GWR respectively could be solutions, especially the former.

Transferring the Chester-Crewe local to Northern would be easy and makes perfect sense, one can assume this will be a certainty.

There are some basic improvements that need to be made in South Wales just to bring services up to the standard elsewhere in the country.

On board Welsh Language announcements should be introduced too - very well having them at stations but on board one is forced to use English.

One supposes all these questions will be answered when the tendering specifications are published; does anyone have any idea of when this will/is due to be?

Arriva Trains Wales have shown no willingness to go above and beyond despite their seriously overcrowded services. They should not be rewarded for their apathy.

It looks like that Abellio could win the Welsh rail franchise to take over from Arriva Train Wales as Abellio now operates franchises such as Merseyrail, ScotRail and Greater Anglia and Abellio did operate the Northern Rail franchise before they lost it to Arriva.

For me the Welsh Government needs to refine it's priorities to get the right franchise With so many good EMU's being released Desiro's from Greater Anglia / Heathrow Connect, a high priority needs to be given to some electrification say Maesteg to Bridgend, then via Airport to Cardiff and the Ebbe Vale line with proposed extensions. That should free up DMU's to get rid of Pacers. The 180's could find a home in Wales giving a upgrade to Cardiff to Manchester / North Wales line as a future ECML upgrade to 140mph running who require AT300's to replace the 180's at Grand Central. The upgraded 156's from Greater Anglia could replace the 153's on rural services. The second phase could see the core Valley's network addressed with a mix of EMU's and train trams as per the Valley's metro proposals using new stock.

A change in direction in the Wales & Boarders franchise is overdue. The current 15 year franchise let on a no growth basis provided no incentive for the operator to adapt to changing demand. Changes such as the Cambrian main line service increases have been hard dependent on external funding being released.

There will be much to challenge the next operator. Electrification in South Wales is already receding into the future. Also the shape of electrification of the Valleys network is still to be determined. Will it be heavy or light rail or a combination of the two? Challenges are faced with the ageing diesel fleet at the least making it disabled compliant by the deadline.

While investment through electrification in South Wales has been targeted for a long time development of the inter urban & rural networks covered by the franchise area is equally of importance. The inter urban network currently supported by the franchise embraces all the Welsh mainlines with a core along the Marches line along the border. Currently worked by a combination of 158 & 175 dmu's it is surely worthy of further development to rival the networks provided by Trans Pennine & Cross Country. .

I hope they sort out the poor service they give at stations in England, like Shrewsbury, Ludlow and Craven Arms.