Posted 29th September 2016 | 8 Comments
CrossCountry franchise extension confirmed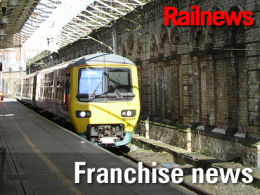 THE CrossCountry contract held by Arriva has been extended by three years to October 2019.
The extension was expected, and had already been shown as 'anticipated' on franchise charts issued by the Department for Transport.
Arriva has agreed to what the DfT described as 'challenging targets' on performance.
Other changes include 39,000 more seats at peak times along the Edinburgh-Plymouth route through Leeds, Birmingham and Bristol, by December 2017 and faster journeys between Birmingham and Manchester – typically by nine minutes on weekdays and 12 at weekends.
The DfT has also referred to a '£20 million Government investment in more modern trains', but no details have yet been revealed.
CrossCountry will offer free and faster WiFi by April 2018, and more trains will call at Morpeth. CrossCountry customer services will also be open continuously and new a mobile app will be launched.
There's good news for Community Rail Partnerships around the CrossCountry network, who will share new funding of £340,000, while CrossCountry will also scrap the £10 'change of travel' fee for Advance ticket holders from January.
Rail minister Paul Maynard described the deal as a 'key milestone', while CrossCountry managing director Andy Cooper said: "We are delighted to have the opportunity to deliver even more for our customers over the next three years through this new agreement. Satisfaction is the theme for the range of investments we will be making, with better, faster journeys with more seats and free WiFi.
"We will also be looking to our customers for feedback on how we can deliver them great journeys, and a strong focus on engaging with the many communities and stakeholders our trains serve across the country."
Arriva will pay gross premiums of £163 million during the three year extension, but this does not take into account the operator's 'share' of Network Rail's Direct Grant, which has the effect of reducing track access charges. In 2014-2015, CrossCountry received revenue support worth £154.1 million, and each passenger kilometre was effectively subsidised by 5.2p.
Reader Comments:
Views expressed in submitted comments are that of the author, and not necessarily shared by Railnews.
I have never in fairness travelled by XC but surely with all the 43's coming off lease from Great Western and Virgin East Coast a few of these could be added to the existing XC units to increase train size and or provide extra units?

Has the DfT been conned? What a poor set of offerings on which to get a franchise extension.

They are taking padding from timings, free wifi is 18 months away, the extra seats is pathetic considering XC has the same number of trains as it did in 2007 yet passenger numbers have soared.

And what's in it for Birmingham-Stansted and Nottingham-Cardiff passengers? Absolutely nothing.

Both DfT and XC are a disgrace to the franchising system - and could have done much better for the passenger.

Two carriages sounds about right, given that the industry grapevine this morning says that AXC are set to take over Virgin West Coast's spare pair of 221 driving motors. Presumably two other 221s would loose a car each to make a viable set, most likely T3s, so the new set wouldn't have a second bike area.

Incidentally, hands up if you've notice that putting Dft through Spellchecker throws up "Daft"!

My thoughts seem confirmed re. our flawed franchising system. I've just discovered that CrossCountry aren't able to put on any extra trains because DfT won't allow them to acquire any new trainsets !



My guess is a lot of the overcrowding problems are due to the flawed franchising system, which sets up private monopolies with largely captive markets. This gives little incentive to TOC's to try and address the overcrowding issue, without being pressed into it by DfT.

There seems to be a whole issue of accountability on the passenger railway.At present it is far too remote and indirect ; we need to encourage effective competition wherever feasible and much more direct democratic control elsewhere.

What a waste of time. 39k seats over the space of a year is 107 a day - less that two carriages, so a carriage on one or two trains a day, on one route only. Nothing for Birmingham-Stanstead, Reading-Newcastle, Bristol-Manchester or Bournemouth Manchester. These routes are grossly overcrowded for much of the day, seven days a week. I suppose the only good news is that we won't have to pay for the utterly useless wifi.

Ahh, Crosscountry; the accomodating needle in the privatised ker-plunk-ism that is competitive UK Rail privatisation. Bliss.