Posted 22nd September 2016 | 6 Comments
Oxford line ready for December launch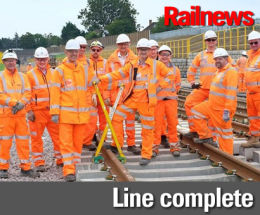 THE upgrading of the Oxford to Bicester line west of the new station at Oxford Parkway into the city itself has been completed by Network Rail, and the project is on schedule to open in December, when Chiltern Railways will start running services between Oxford and London Marylebone.
The route, which includes a new chord at Bicester connecting the east west corridor with the Chiltern Main Line, will be the first ever to compete with GWR services between Oxford and London.
The final track installations were completed around Peartree and Wolvercote in Oxford, and the line speed has risen from a former 20-40mph (30-60km/h) to 100mph (160km/h).
In future, the route between Oxford and Bicester will also carry trains on the revived east west link towards Bletchley and Bedford, with an extension onwards from Bedford to Cambridge also being considered.
Meanwhile, services between Oxford and Marylebone will begin with the December timetable, providing two trains an hour.
Chiltern managing director Dave Penney said: "With the track now laid from our new station Oxford Parkway through to Oxford city centre, we can look forward to the first trains running on 12 December. The new rail line will bring significant social, economic and environmental benefits to those living and working along the route."

Network Rail route managing director Martin Frobisher added: "This important landmark in our nationwide Railway Upgrade Plan will bring economic benefits to the Oxford region and with it new opportunities for people living there."
A spokesman for the Rail Delivery Group said: "The close partnership between Chiltern Railways and Network Rail shows how the rail industry is attracting more funding from new sources to build the railway Britain needs and wants."
Reader Comments:
Views expressed in submitted comments are that of the author, and not necessarily shared by Railnews.
Another point about the new track from Oxford Parkway to Oxford is that Network Rail are in breach of the planning conditions which were set following the TWA. Network Rail had promised to use Tata 'Silent Track' but at a recent planning meeting said they no longer proposed to do so. (For the details on this see the Oxford City Council website.)

A line speed increase from 60 km/h to 160 km/h is quite impressive. How did they manage that? Did they make substantial improvements to the alignment?
[The old line speed was probably at least partly due to the state of the track, I suspect. Everything has been relaid.--Editor.]

James Palma: "Why cant more companies do the same?"

Short answer: because demand management goes to pot on longer-distance routes. Chiltern can do this because their only major non-commuter market is London-Birmingham, where peak demand is subdued by premium business travellers going on the other faster route. That situation doesn't apply to any other LDHS routes.

Try asking anyone who travelled on the afternoon peak on the ECML prior to afternoon peak restrictions how that worked out, and you'll get a very different answer.

It's not that hard, by the way. You pick a train and travel on it, same as airlines. Does anyone complain that you have to pay more if you turn up at the airport without a booking to take the next flight to Edinburgh?

I am puzzled by this report. The line into Oxford is by no means "complete" as asserted in the headline. The junction on to the Oxford-Banbury line is half laid and only one of the Bicester lines is connected, and that very far from operational. The station work at Oxford to receive the Marylebone trains is still a building site. No doubt it will be "complete" sometime but this report doesn't seem to be an accurate account of the current situation.
[We are reporting accurately what Network Rail has said, and its release includes the lead phrases "Track now fully installed from Oxford city centre to London Marylebone." and
"Chiltern Railways services from Oxford city centre set to launch on 12 December 2016." Chiltern is already running trains twice an hour from Marylebone to Oxford Parkway calling at High Wycombe and Bicester Village, so at least some of the infrastructure is operational!-- Editor]

Excellent news! I also hope chiltern keep their excellent ticket prices which are simple to use and understand and are the same if you book on the day or years in advance. Why cant more companies do the same?