Posted 13th September 2016 | 5 Comments
'Passionate' DfT minister launches major railfreight strategy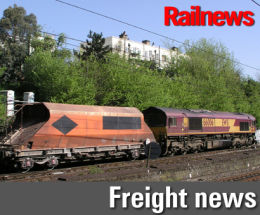 A NEW report from the Department for Transport has signalled an increasingly important role for railfreight, partly because of environmental concerns. It says the sector must also be ready to innovate, because its markets are changing rapidly, and improve its methods of communicating the advantages of rail.
Alongside the main strategy document the DfT has published two others from Arup, one of which examines the growing opportunities presented by carrying certain types of high value and urgent goods by passenger train, recalling former times when passenger trains routinely carried smaller consignments. This business has already started to reappear in a small way on certain East Midlands and Great Western routes. For example, fresh fish is now being brought from Cornwall to London in the brake vehicles of some HSTs.
The DfT also acknowledges the possibility of converting older passenger rolling stock into dedicated trains carrying smaller items between cities, or locking off a single vehicle in other passenger trains for the same purpose.
Arup highlights the potential opportunity for the railfreight industry to establish new 'core' markets by conveying commodities such as construction materials and deep sea containers. It adds that "here is also long-term growth potential in some sectors which are currently relatively small markets for railfreight, including domestic intermodal container trains, biomass for power generation and the automotive industry".
The main DfT strategy points out that each tonne of freight transported by rail reduces carbon emissions by 76 per cent compared to road, and that a freight train can replace as many as 76 lorries, while the Government has set a 'stretching and legally binding' Fifth Carbon Budget which will see a 57 per cent reduction in emissions in 2032 compared to 1990 levels, on a path towards reducing emissions by 80 per cent by 2050, as set out in the Climate Change Act.
It has identified four areas which need particular focus from now on -- innovation and skills, network capacity, track access charges and 'telling the story of railfreight', because "the competitive nature of the industry means that the industry has not always been good at coming together to sell its collective benefits to potential customers, decision-makers and the public. Similarly, the railfreight sector is not always well understood within the wider rail industry."
It also concedes that railfreight is facing other challenges, such as the decline in movements of coal and also the problems confronting international railfreight because of the continuing immigrant crisis at Calais, close to the French portal of the Channel Tunnel.
The DfT said the need for future investment in the network after 2019 to support freight growth is being considered as part of the long-term planning process, which will be aided by Network Rail's Freight Network Study and initial industry advice, which is due to be submitted to the Department around the end of this year.
Rail minister Paul Maynard said: "I am already beginning to get a feeling for how passionate the industry is about rail freight. It is a passion that I share: rail is the most environmentally-friendly means of land transport."
In a written statement to Parliament today, he explained: "Railfreight makes an important contribution to our economic and environmental well-being, with benefits estimated at around £1.6 billion to the national economy every year. It generates around £1 billion from improved productivity, while around £0.6 billion is the value of the reductions in road congestion, carbon emissions and air pollutants. Rail freight currently carries one in four of the containers coming into our ports, and has the potential to carry an even higher proportion."
The reports have been welcomed by the Rail Freight Group, which represents operators in the sector. Executive director Maggie Simpson said: "The rail freight sector is changing and freight operators and their customers are working to deliver growth in new and existing markets and to be fit for the future. This strategy will help to provide the stable and supportive environment they need to do so, and we welcome its publication."
Freightliner CEO Russell Mears has welcomed the 'sense of direction' provided by the new document.
He explained: "The strategy emphasises the importance of having a clear policy framework to support rail freight to achieve its potential. It sets out a clear vision for how rail freight can continue to grow and identifies opportunities for industry partners to collaborate and innovate. We recognise that it will be for the industry, including the railfreight operators, to deliver the vision and we welcome the sense of direction that this Strategy provides in helping the industry plan ahead."
Elizabeth de Jong, director of policy at the Rail Delivery Group, also hailed the development of a strategy, saying: "Railfreight is crucial to Britain, helping to ensure supermarket shelves are full, next day deliveries arrive the next day and the traffic keeps moving by taking thousands of lorries off the road.
"The sector is changing and in this strategy, the rail industry has come together to set out important actions that will support freight companies to continue to innovate. RDG will continue to work with government and the wider industry to develop the four priority areas identified."
Reader Comments:
Views expressed in submitted comments are that of the author, and not necessarily shared by Railnews.
All the time they come on with these strategies yet they won`t invest ! We have seen a major building project approved at Hinckley yet not one piece of nearby rail infrastructure has been created or upgraded to bring in materials to the site ! Why ?

On a positive note : there probably is an untapped market for "inland" ( including via The Chunnel), intermodal / bimodal freight , frejght that is not suited to containeristion, but oriented around semitrailers.

Back in the 1960's, BR experimented with the Roadrailer bimodal trailer, which seemed to fit our loading guages. Since then , these sort of technologies have developed further ; could an effort be made to pursue this type of approach again, in order to better address the above latent market ?l

It seems every time a proposal to open a new terminal arise locals rise up to oppose such a move thus thwarting transfer from road to rail.

Perhaps one solution might be to look at places where coal has been loaded being converted into freight terminals before they are lost?

We have also seen how the proposed electric spine to handle freight has been pushed further into the future making it less likely to happen.

Let's hope the Government and ministers follow up the warm words with positive actions. Doubling the track on the Felixstowe branch, for example, to permit a substantial increase in intermodal services, which simply will not happen without such investment.

Ever since the inception of the Strategic Rail Authority, it seems DfT has been slowly taking over more and more of the decision-making in the passenger railway, so that the TOC's now only seem to be in charge of the day-to-day running of trains.

Is the same thing now beginning to take place for the railfreight industry ?