Posted 9th August 2016 | 1 Comment
RMT staff vote for industrial action on Virgin Trains East Coast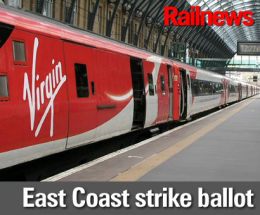 MEMBERS of the RMT on Virgin Trains East Coast have voted for industrial action by a large majority, in a dispute over changes to staffing.
The union has accused VTEC of 'bulldozing' changes through without consultation, but VTEC says they are part of a 'customer-centric revolution'.
The union said 84 per cent of those who voted were in favour of a strike, and almost 90 per cent approved action short of a strike. The RMT claims that almost 200 jobs are at risk and it also alleges that the franchise is losing money, which VTEC has denied.
The RMT is calling for strict adherence to redeployment and protection agreements, no compulsory redundancies, protected rates of pay and a safety-critical member of staff on every train, but says assurances on these and related matters have not been forthcoming.
The union's general secretary Mick Cash said: ""RMT will not sit back while nearly 200 members' jobs are under threat and while conditions and safety are put at risk by a franchise which is clearly in financial trouble.
"RMT is aware that VTEC management are putting out regular propaganda messages to their employees, to justify the company`s attempts to attack job security, terms and conditions of employment and current working practices. In response to company propaganda, RMT's view is clear. Long-standing agreements between our two organisations dictate that the company must negotiate with RMT, as a recognised trade union to those agreements, yet the company say these changes are a consultative process. That is simply not true. Any changes to staff terms and conditions are negotiable matters.
"Our members will not pay the price for a crisis cooked up in the Virgin/Stagecoach boardroom. We will now be considering the massive mandate for action delivered by our members in this ballot and the union remains available for serious talks."
Virgin Trains East Coast said it was making changes which would see a single person take responsibility on trains.
VTEC managing director David Horne said: "We have worked hard to ensure there are comprehensive contingency plans in place and I want to reassure our customers that the timetable will be unaffected, should any strike go ahead.
"The changes we are making are part of the customer-centric revolution we have planned for the east coast. We're already half-way through our complete refresh of our trains with all new interiors, and in two years will have our brand-new Azuma trains coming into service. Alongside more modern trains, we want a modern customer service proposition – one that focuses firmly on the customer.
"With our guarantees that there will be no compulsory redundancies, no impact on safety and a full timetable in place during any action, we urge the RMT not to call a strike which will cost its members pay for no reason, and to rejoin us around the negotiating table."
Reader Comments:
Views expressed in submitted comments are that of the author, and not necessarily shared by Railnews.