Posted 2nd August 2016 | 4 Comments
Midland Main Line disrupted by bridge collapse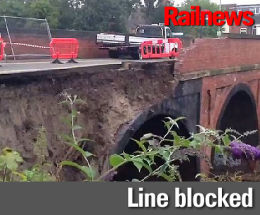 THE Midland Main Line has been closed between Leicester and Loughborough, because the line is blocked by the partial collapse of a bridge over the line at Barrow upon Soar. Network Rail engineers are at the scene, but the closure could last for some time.
The section of roadway on one side of the bridge is reported to have been sinking for a while, and the road concerned was due to be closed for repairs.
The collapse, which occurred in the early hours of the morning (Tuesday), affects one arch of the bridge, but all four tracks at the site have been closed as a precaution.
No trains are running between Loughborough and Leicester, and the site of the incident has also effectively blocked the alternative route south of Loughborough via Melton Mowbray and Corby to Kettering and London.
As a result, Midland Main Line services have been seriously disrupted. Limited services are running between Leicester and London, but buses are replacing trains between Kettering and Corby.
There are also limited train services running north of Loughborough to Derby, Nottingham and Sheffield.
Although buses are also being provided around the closed section north of Leicester, East Midlands Trains says they are intended only for local passengers, and that intercity passengers between London and Derby and stations north should use trains from London Euston and Birmingham New Street, or from London King's Cross and Doncaster.
Reader Comments:
Views expressed in submitted comments are that of the author, and not necessarily shared by Railnews.
Why should this incident cause bus substitution of services between Kettering & Corby ?
[Please see my answer to another correspondent.--Editor]

Sorry but please can you run this one past me again: there's a blockage on the main line at Barrow upon Soar, north of Leicester and as a consequence, buses replace trains between Corby and Kettering. Look at the map, it makes no sense whatsoever.
[There was probably a shortage of trains on the south side of the blockage. The main depots (Derby Etches Park, Nottingham, Leeds) are all further north, and at that time of night most of the main line HST/222 fleet would have returned there, with just a few sets stabled at Cricklewood for the first down trains in the morning. London-Leicester main line services were also limited: perhaps for the same reason?--Editor.]

The word on the street is that contractors were there doing investigatory drilling after public complaints of the bridge`s condition .During the drilling a water main was accidentally ruptured ,which then caused the collapse.

For years now we have been having increased landslips caused by rain and floods all around the National Network. From Devon to Dover the list grows ever longer. It would seem that the Network is unable to cope with the extra water the UK is getting, which could be down to paving over front gardens and increased building, as much as 'Global Warming'. When it happens it causes huge disruption for many months losing huge amounts of revenue, and costing £millions to repair. So why can't Network Rail predict which areas are at risk and fix them before it happens ?