Posted 8th June 2016 | 3 Comments
Northern to be divided into four regions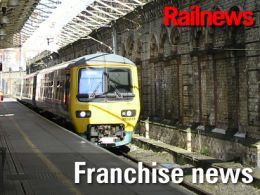 THE Northern franchise is dividing itself into four regions for the purposes of day-to-day management.
The new operation, which began on 1 April after the franchise had been awarded to Arriva, will be controlled from centres in Leeds, Manchester, Preston and Newcastle, which go live in July.
The new Central region will be led by Liam Sumpter and based in Manchester, covering the area from Clitheroe and Colne, down to Crewe, Stoke-on-Trent and Buxton. East will be the largest and will be led by Paul Barnfield from Leeds. The region will cover an area bounded by Hull, Nottingham, Todmorden and Armathwaite. North East, based in Newcastle, will be run by Mike Paterson, and his territory will stretch from Carlisle to Whitby, and to Chathill and Teesside Airport. West, covering Ellesmere Port, through to Liverpool, Blackpool and the Cumbrian coast, will be controlled by Sharon Keith working from Preston.
Northern managing director Alex Hynes said: "Regions are at the heart of our new franchise. They will enable the transformation of Northern, bringing our people and service delivery closer to the communities and customers we serve."
One of the new regional directors, Sharon Keith, said: "I'm excited to be part of a team that will deliver such a significant transformation for the people of the North. Our new West region is an incredibly diverse area; from great cities to beautiful countryside and coastland. I look forward to being part of Northern to deliver the best service possible for the communities we serve."
Reader Comments:
Views expressed in submitted comments are that of the author, and not necessarily shared by Railnews.
Before anyone comments on carriage numbers for the CrossCountry franchise, I do know that further destinations cannot be added without a large enough fleet. If more trains had to be ordered, surely it wouldn't be a Voyager order as I couldn't see them making that model of train any longer.

Very good of Arriva Rail North to be aiming for transformation some early in its life. We should believe in what they're doing and not bring up the old Arriva Trains Northern days. Arriva has changed since then. Just look how how good the CrossCountry franchise has been run by Arriva. They only need to more destinations to its network – Liverpool, Hull, Swansea, Norwich, Brighton to name but a few.