Posted 2nd June 2016 | 5 Comments
RMT calls for inquiry after 'overcrowding' incident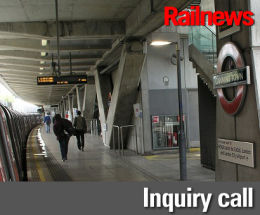 THE RMT is calling for a 'full and transparent formal investigation' into an incident at Canning Town on the Jubilee line last Thursday (26 May) in which a passenger was caught between a platform and a train.
The station was 'dangerously overcrowded' at the time, as 'people ended up being shunted from one part of the station to the other', according to the RMT.
Canning Town has a high-tech control room, but the RMT said this is now one of several on the system which has been 'permanently unstaffed' as a result of economies.
RMT general secretary Mick Cash said: "The appalling incident at Canning Town last week should be a wake-up call to London Underground that it's staff cuts programme is compromising safety and, against the background of over-crowding on a daily basis, highlights the daily risks that are confronting both passengers and staff alike.
"There must be no cover up of this incident and RMT demands a full and transparent formal investigation to establish the facts. With the industry safety watchdog, the RAIB, warning only this week of the growing dangers at the Passenger/Train Interface it is patently obvious that cutting staff against that backdrop represents a lethal gamble with rail safety.
"RMT intends to raise this appalling situation as part of a wider agenda of safety-critical issues with the new Mayor and the union repeats its call for a halt to the disastrous London Underground job cuts programme."
TfL said: "Canning Town station was closed on Thursday 26 May at around 08.45 due to a passenger getting their foot caught between the train and the platform. As a result, the Jubilee line was suspended between Stratford and North Greenwich during that time. Our staff were present, along with all emergency services, to help the passenger and resolve the situation as safely as possible."
Reader Comments:
Views expressed in submitted comments are that of the author, and not necessarily shared by Railnews.
The woman got her leg caught when getting off a train. I do not see it having anything to do with the presence or absence of guards on a train. How could a guard possibly have prevented this? Would they carry passengers off a train at every stop? So this is irrelevant to the DOO argument.

The station was NOT "dangerously overcrowded a the time". Yet another distortion of the facts from Mick Cash and the RMT (and yet another reason why almost no one believes a word they say). The article in The Independent says the woman got her leg caught around 8:20am, and "Building crowds at Canning Town station caused it to be evacuated at 8.45am". Of course crowds started building after the incident with trains stopped. Doesn't take an Einstein, or an inquiry, to figure that one out. The proper response to the overcrowding WAS taken, the station was evacuated and temporarily closed.

Also, though Mick Cash may have a point for other reasons, I do not see how the de-staffing of the control room caused this woman to get her leg stuck between train and platform, or how having a staff member in the control room could have prevented it. Staff members WERE present at the station and DID prevent the train from moving off. This seems yet another disgusting case of the RMT exploiting an unfortunate accident to try and score political points and increase the ranks of their membership. I consider that sort of behaviour beneath contempt, even for Mick Cash.

What nonsense the RMT come up with. First they dont want staff to move out of ticket offices to be passenger facing, now they do. I use this station everyday and, yes, there are problems with crowding, but this is because muppets, sorry, passengers do not move down inside the cars; push and shove to get on while others are getting off; and try to get on trains when doors are closing despite a 1 1/2 minute headway between trains. From a friend who was an eye witness AND was involved in helping this person, this was all part of the cause of the incident. Oh yes, and there are regularly 4 to 5 LU staff in passenger areas and more in the station control room, all of whom I see twice a day 5 to 7 days a week.

The real concern of this incident is that Canning Town Jubilee Line platforms have almost no gap between train and platform and same applies re height of train and platform with Step Free map showing station with a green A meaning this is one location one of these incidents should not occur easily.

One difference between these stations at eastern end of Jubilee Line extenstion is they are above ground and don't have PEDs .

With talk of driverless trains without a permanent presence at the front of trains then this incidence must raise serious questions about this type of operation given that this occurred at one of the best stations re gap/ height difference so how many billions to upgrade all platforms to this standard as I doubt PEDs alone will be suitable at places like Central Line at Bank Station.

You see people, this is what could happen without "safety-critical" guards. Mick Cash, you're on to a winner now.