Posted 24th May 2016 | 14 Comments
Second Spanish rolling stock win confirmed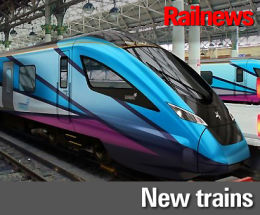 NEW trains for Transpennine Express are to be built by the Spanish firm of CAF, after no bids were received from a manufacturer with a British base.
TPE said the deal was 'great news', but the RMT said the decision to choose a Spanish builder was a 'sad indictment' of the railways.
The order for two new fleets is the second to be made by FirstGroup for Transpennine Express. It has already signed a contract for 19 five-car trains, to be supplied by Hitachi.
The latest deal completes First's rolling stock commitments on Transpennine and involves two more fleets, consisting of 12 five-car Civity UK intercity electric trains financed by Eversholt Rail and 13 five-car intercity trains financed by Beacon Rail Leasing.
The contracts are a second recent British win for CAF, which is already providing new trains for Northern. The firm has also built the new fleet of trams for Midland Metro in Birmingham.
Transpennine Express said the new fleets will provide an extra 13 million seats a year -- enough to fill Old Trafford stadium more than 150 times.
In total, 44 new trains are now set to come into service on Transpennine Express by 2019.
TPE managing director, Leo Goodwin said: "This is great news for our customers and we are delighted to have concluded the deals that will bring much needed and much wanted extra carriages across our network.
"This will enable us to transform the customer experience over the life of our franchise and our three new train fleets will form a key part of this improvement.
"Whether travelling to work, for business or leisure, our services are going to offer more seats, improved connectivity and a higher standard of comfort. The on-board experience will be second to none and we will provide customers with a real alternative to the car and congested road network."
The news of the latest orders received an unenthusiastic reception from the RMT. The union's general secretary Mick Cash said: "It is a sad indictment of our railways that, at a time when our steel-making and manufacturing industries are in crisis, these new trains are not being built here in Britain.
"With the pressures on our railways, and the constant demand for extra capacity, the Government should embark on some joined up thinking and make serious efforts to use these opportunities to protect UK steel making and our manufacturing base."
Reader Comments:
Views expressed in submitted comments are that of the author, and not necessarily shared by Railnews.
your correspondent Mr Windebank is,in my opinion, in error over his assertion that privatisation brought success to the train building industry of Britain. I would assert that the unforeseen consequence of privatisation was that we had a three year dearth of orders for rolling stock which closed plants and companies in the uk leaving us incapable of fulfilling orders in a planned and timeous way..........lack of forward planning by government.

Well, going by how much Mick Cash gets criticised by the public, I think it safe to say that he's nothing but a baby who cries in his pram at pretty much everything.

Our steel industries do seem be building less stock. Maybe a reason to back the Leave campaign for the EU Referendum, so our industries can thrive?
[Modern train bodies are much more likely to use aluminium, although steel is still needed for the chassis.--Editor.]

As stated in CAF´s press release.......

"......CAF intends to establish new operations in the country with facilities to carry out rolling stock assembly and test activities as well as maintenance.
Likewise, CAF plans to establish a Spares Supply and Management Logistics Centre with the aim of managing the equipment necessary for the supply of components and tools in the various train maintenance and upkeep service operation locations.
Activities carried out in the new facilities and those carried out at the customer's workshops will both benefit from support services from the new Headquarters located at a strategic point on the northern network. This will include the hiring of technical and management personnel, and the provision of support services for Engineering, Purchasing management, Information Systems,Quality and Human Resources. More details related to the establishment of these new facilities willbe made public in the coming months."

Though not a manufacturing centre this still seems to be a considerable investment in the UK.

I'm fairly sure Mick Cash is actually capable of reading, and knows very well that no UK based manufacturers bid owing to full order books, yet naturally they have to ignore that good news and look for a mean spirited politically motivated comment.

I think Mick Cash and the RMT (and his slightly less evil twin Mick Whelan at ASLEF) are truly a miserable pair. Nothing seems to please them, they always manage to find something negative to say about anything . They truly could care less that passengers (and their members) will get brand new trains. I'm sure the usual story will unfold, a few years to wait for the new trains, during which time naturally no negotiations will take place, then at the last minute they'll find some reason to strike over their introduction (maybe the livery will clash with Mick's tie or something).

I think the public in general is sick & tired of being held to ransom by this pair. Strikes on the railways should be banned as an essential public service and disputes settled by mandatory binding arbitration at ACAS.

Re my earlier post; an extract from CAF's press release is reproduced below:

"Building on the uncompromising commitment to this market, and as key element in this process, CAF intends to establish new operations in the country with facilities to carry out rolling stock assembly and test activities as well as maintenance"

Assuming the assembly operation comes to fruition, that should keep Mick Cash happy!

Is anything more known about these trains? Will, for example, they be 23m long or 26m? Will the doors be sliding pocket or sliding plug? As ALSTOM will be maintaining the trains, does this mean they will be fitted with that supplier's traction equipment?

And - as with the Hitachi deal for IEPs - is the establishment of an assembly plant part of the deal?

In a sense Mick Cash lives in the shadow of the late Bob Crow but just like Bobby Ewing was not JR Ewing the same applies to Mick Cash who can't necessary know how Bob Crow would have dealt with issues if he was still here today.

The irony is rolling stock provision is one of the few areas of rail privatisation that has worked it's just the long famine post privatisation stopped the setting up of competing companies to build trains something which may now change given orders coming forward which will include tube trains, HS2 trains and replacement of PEP based stock built 40 years ago as well as trams ?

British factories are full to bursting with orders that take them beyond the delivery timescale for TPE. A sad state of affairs indeed.

I think the order for the Class 68 hauled coaches is the interesting one. CAF are probably the only company, who have a coach design for the UK, as they are building the coaches for the Caledonian Sleeper. Imagine a rake of five cosches, with a stylish driving cab in one end, perhaps lifted from the Civity. It certainly wouldn't be a driving van trailer and you could even design the area behind the cab as a buffet/restaurant/First Class/lounge or whatever. A good designer could have a lot of fun and create a train that would attract passengers.

I think we'll be seeing more rakes of coaches in the UK, as passengers for some reason seem to like them and they may be easier to lengthen as traffic grows. All you need to add is a suitable and available locomotive. 68, 88,90 or what about a 73/9?

Imagine doing a Chiltern from Waterloo to Exeter with perhaps a Class 73/9! What would Mick Cash think about a 1960s locomotive pulling Spanish coaches replacing 1990s DMUs to create a high class service to compete with GWR?

Why stop at Exeter?

But Chiltern will also need coaches soon

Mick Cash isn't very liked by the Railnews contributors. Is there a genuine reason for all the stick he receives?
[Over to you, contributors.--Editor.]

Re the comment from Mick Cash.

I've seen it reported somewhere that CAF are considering opening a train assembly plant in the UK; does the editor know anything about it, please?
[Rumours are one thing: I have seen nothing official so far.--Editor.]

Perhaps Mick Cash should read the press releases. It clearly states "no bids were received from a manufacturer with a British base".
TPE had no choice but to order from a manufacturer that would not be building the stock in the UK. It is sad that no UK based companies bid for the work.

The liveries on these babies will be mind-blowing – you can't take your eyes off the design.