Posted 18th May 2016 | 6 Comments
No trams to New Street just yet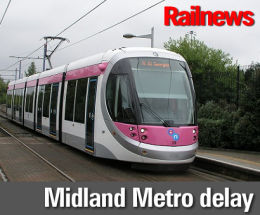 THE launch of Midland Metro services to Birmingham New Street has been postponed. Trams had been due to start carrying passengers through central Birmingham to the city's largest station on Sunday, and a Centro manager has admitted that he is 'bitterly disappointed'.
The project to extend the line from Snow Hill to New Street is already running late, and the latest delay has been attributed to 'minor anomalies in some of the track alignment'.
Phil Hewitt of Centro, who is programme director for the Metro, said: "It is bitterly disappointing as everything else is in place and ready to go but, as we have said right from the start, safety is paramount. A stringent testing programme has identified minor anomalies in some of the track alignment which need to be addressed.
"These are exactly the sort of issues the tests were designed to identify. However remedial work is relatively straightforward. Once that is complete, on-street driver training can begin and we will soon have passenger services running."
A Midland Metro 'family fun day' at Martineau Place near the new stop in Corporation Street on the opening day has also been cancelled.
The 1.2km extension is part of a £128 million investment programme which has also included 21 new CAF trams, a depot upgrade and more frequent services. Transport chiefs say the improvements are set to boost the West Midlands economy by more than £50 million a year and create 1,300 jobs.
Trams did return to city centre streets in December, when the first part of the extension from Snow Hill opened as far as Bull Street, when the old terminus at Snow Hill was replaced by a new stop outside the station.
Work on other extensions is also progressing. The next will take trams onward from Birmingham New Street to Centenary Square and, at the other end of the line, from the present terminus at Wolverhampton St George's to the city's bus and rail stations. Beyond that there are several more schemes being planned, including further extensions in Birmingham to the future HS2 station at Curzon Street and a line through Digbeth.
Reader Comments:
Views expressed in submitted comments are that of the author, and not necessarily shared by Railnews.
You are right – delays are practically unavoidable. Just look at the Pacers. They should have been taken out of service YEARS ago, though as a northerner, I feel the pain of that north/south divide.

Darling was part of the last Labour government. That demonstrates that even if Labour came back into power, we would have "no" decisions thrown in our faces. No government looks beyond the Watford Gap for transport infrastructure upgrades. Yes, we have the TransPennine electrification project coming to the north, but that was "delayed" before being put back on track. If it was a London project, there would be no delay.
[Sure about that? Thameslink was originally called Thameslink 2000, because the upgrade was supposed to be completed by then. Crossrail will open in two/three years from now, but the project was being planned in detail in the late 1980s. New trains for the Piccadilly line should have been in service in 2014 -- they haven't yet been ordered. Delays to railway projects happen everywhere, I'm afraid.--Editor.]

"I can't understand why the "Birmingham of Yorkshire" Leeds doesn't have one."

Blame Alastair Darling for that. There was a perfectly decent scheme which he blocked.

Ah, I see. Hopefully the tram network proposals which were rejected will come back some time. I personally feel trams would be better for the city for Leeds than trolleybuses anyway.

Birmingham is so lucky to have its very own tram network. I can't understand why the "Birmingham of Yorkshire" Leeds doesn't have one. Leeds could have had its own tram network a decade ago, though the plans to build one went up in a puff of smoke. Even the alternative Leeds trollybus scheme bite the dust. Westminster ought to think of cities up north and not everything just below the Watford Gap.
[Just as a matter of record, the Leeds trolleybus project was rejected by a planning inspector who had taken more than 1,500 local objections into account.--Editor.]