Posted 10th May 2016 | No Comments
Gordon Wakeford to chair Rail Supply Group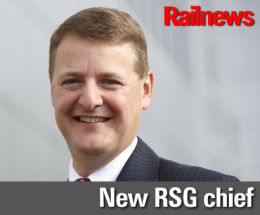 THE man who has been appointed to lead the Rail Supply Group on behalf of the supply chain industry as the successor to Terence Watson of Alstom has pledged to continue the momentum which has already been generated.
Gordon Wakeford, the managing director of Siemens' Mobility Division and also chairman of the Railway Industry Association, is the new 'industry chair' of the RSG. His co-chairs are the business secretary and the transport secretary.
He said he was delighted to join the group at a time of 'significant investment', and continued: "By working with the RSG council, in partnership with Government, my first task will be to ensure that we maintain the momentum achieved. It is essential that we get down to the business of delivering the main strategic work streams and continue to build links across the industry ensuring alignment with the railway trade organisations, especially RIA."
The Rail Supply Group was set up in 2014 as a focus for the railway supply chain in the UK, which is not represented on the Rail Delivery Group.
In May 2015, Terence Watson told an industry audience that UK exports of rail-related products needed to grow. He warned: "Other European countries are doing much better: France 20 per cent and Germany 50 per cent. And our Chinese competitors are 40 times larger than the largest UK rail supplier. Come on!
"This is unsustainable. We once had a strong export record. We lost it, and now we want it back."
Gordon Wakeford said: "I would like to take this opportunity to give thanks to Terence Watson, the departing industry chair, who has worked hard to bring about the founding of the RSG and the development of its strategy."
Transport secretary Patrick McLoughlin said: "We are funding the biggest rail modernisation programme since Victorian times which is creating opportunities for UK suppliers across the country.
"I look forward to working with Gordon and the Rail Supply Group to ensure that our supply chain can deliver this programme efficiently and effectively supported by a highly skilled, highly motivated workforce."
Paul Plummer, who is chief executive of the Rail Delivery Group, said: "An effective working relationship between passenger and freight train operators, Network Rail and their respective supply chains helps us build a better railway for a more successful Britain. It helps us to enable jobs and housing and grow our economy.
"Gordon Wakeford's appointment will provide us with the opportunity for us to clarify the responsibility that the whole industry has to deliver on investment in the railway. I look forward to working with Gordon as we build upon the relationship between the RDG and the RSG in the coming months".