Posted 9th May 2016 | 4 Comments
Watchdog urges better relationship with passengers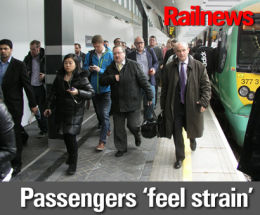 OFFICIAL rail watchdog Transport Focus has called for an improvement in the relationship between passengers and railway companies.
Writing in the May edition of Railnews, Transport Focus chief executive Anthony Smith says surveys carried out by TF reveal that many passengers are dissatisfied, with commuters in the south east of England 'feeling the strain' in particular.
He continues: "While longer-distance and regional rail passengers have seen some improvements the overall change has been dragged down by the sheer weight of passenger numbers in the south east.
"Spiralling passenger numbers are making day to day operation and rebuilding difficult."
The spiral he mentions appears to be continuing, according to new figures just published by the Rail Delivery Group, which reports that the total number of people travelling by train rose by almost four per cent last year.
The total as quoted by the RDG is 'almost 1.7 billion', although this counts each train used in the course of a journey. The number of complete 'end to end' journeys is now probably about 1.4 billion, a total which has not been seen since the 1920s, when the railway network was roughly twice the size.
RDG chief executive Paul Plummer welcomed the continuing investment, but added: "While there has been growth overall in the past year, these are challenging times. There has been a slowdown in the rate of growth in some areas of the rail market and we are analysing how factors such as a worsening economic outlook or continued low petrol prices may be affecting train travel."
Anthony Smith also acknowledges the 'welcome and necessary' investment which is coming from the government, but feels the railway industry itself should go further: "I think it's time the industry gave passengers some meaningful promises about when performance will stabilise."
He warns: "Future big schemes, such as at Waterloo and Euston – as well as longer term planning for investment for the whole industry – must engage passengers much more closely in the planning stages.
"They must include realistic expectations about performance, with price freezes built in from the start. The deserved credit for the investment will be much harder to claim otherwise."
A spokesman for the Rail Delivery Group responded: "Our customers must be at the heart of everything we do. Overall satisfaction among rail passengers is up significantly according to the latest survey by Transport Focus, but we know that we can do better to run more trains on time more often.
"Our railway is benefiting from one of the biggest investment programmes in its history, major improvement work that is producing better stations, better trains and better journeys. Billions of pounds are being spent to improve reliability and increase capacity.
"We're sorry when people do not get the service they deserve and we never want people to suffer delays or disruption. Train operators and Network Rail work hard together every day to deliver a better, more punctual railway and to give people better information when things do go wrong."
Reader Comments:
Views expressed in submitted comments are that of the author, and not necessarily shared by Railnews.
Note the difference in terminology. Where Transport Focus refers to passengers, RDG refers to customers. This is no accident. To Transport Focus what matters is that these are people needing to make journeys. To RDG they are just a source of income - or, better still, a means of profit-extraction. So of course they don't communicate well - they inhabit parallel universes.

One problem is that a complaint from a passenger too often gets mishandled by a train company. If the train companies could just provide the customer service expected of them, there would be no need for as many complaints to be submitted.

My main "gripes" relate to a couple of WCML stations.

At Euston currently , passengers are made to wait on the concourse until a few minutes before train departure - quite an ordeal for elderly / arthritic or those who can't easily see the destination indicator board.

Birmingham New Street has dangerously narrow platforms - when people are trying to leave a train while the platform is teeming with others wanting to get on, it is surprising nobody has yet been forced off the platform and fallen onto the tracks (or have they?). As someone wrote before, a lovely shopping centre - pity about the station underneath !

Unfortunately improving relations with the Public is probably a thankless task. However I suggest the problem is 'Great Expectations'. For many reasons the Public now expect that trains can be 'run on time' with a seat for all, with no problems. They do not expect that when they drive or use a plane. Somehow that has to be altered to 'Realistic Expectations'. I am sure many of the Public actually want to know (for example) when the first electric train will be tested between Reading to Paddington, and when a regular service will start. During Reading's Re-Build every month a new Leaflet was issued to all Passengers at Reading Station detailing what was happening next and the future plans. Every day 1000s were taken from the special stands when a new issue came out and I felt everyone in Reading was really interested in the Development. I never ever saw a bad comment in the local Press during our 5 years of upheaval.