Posted 4th May 2016 | 5 Comments
Strike ballot starts over Night Tube offer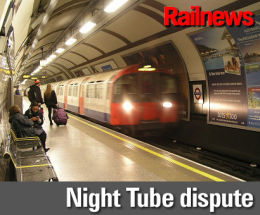 THE delayed Night Tube project still hangs fire as fitters and engineers employed by the TfL maintenance subsidiary Tube Lines vote whether to strike over their prospective pay and conditions. The RMT has called for further talks.
The plan, approved by Boris Johnson, was for trains to run all night on much of the deep tube network on Fridays and Saturdays from last September, but services cannot now start until after another Mayor has taken control.
The RMT accepted an offer for train operators and station staff earlier this year, but at the time was critical of the Tube Lines deal. RMT general secretary Mick Cash said his members in Tube Lines were 'furious' at the 'inferior' offer they had received. He added: "Our reps for this group of over 1,000 safety-critical staff have unanimously thrown the whole package out."
The RMT said: "The dispute is over the companies refusal to discuss outstanding pensions issues until after the eventual launch of the Night Tube operation. There are also major unresolved issues over Night Tube staffing arrangements and a threat to undermine PRP [Performance Related Pay] agreements through Tube Lines refusing to base budgets on the negotiated levels."
One point of conflict is just how many nights a week would be involved in Night Tube. The initial plan was for just two days, but the RMT fears that the agreement, as worded, could mean services being extended to some other nights as well.
A ballot for strikes or action short of strikes is now underway. Mick Cash said: "It is absolutely essential now that there is the earliest possible resumption of serious and meaningful talks on these issues and the union is ready to engage in those talks."
London Underground chief operating officer Steve Griffiths said: "We have made the same fair and sustainable four-year pay offer for Tube Lines maintenance staff as has been made for staff employed by London Underground.
"This will see an average 2 per cent salary increase this year and inflation-protected rises in 2016 and 2017. Pension arrangements for Tube Lines maintenance staff have been the subject of separate ongoing discussions."
Reader Comments:
Views expressed in submitted comments are that of the author, and not necessarily shared by Railnews.
is it possible for a large group of people to sue a union and its members for loss of pay and related inconveniences? This is a legitimate question.

[As this question has been asked before, it has already had a legitimate answer. Our guest lawyer David Moore of Clyde & Co dealt with this point in the March edition of Railnews (RN229). In summary: (1) Passengers cannot sue for breach of contract because they have no contractual relationship with the unions, nor their members. (2) The law of tort (a tort is a 'civil wrong') might help, but probably only if industrial action had been unlawful in some way, such as being called without the authority of a properly conducted ballot. (3) Even if (2) applied to the case, suing for mere inconvenience, such as being irritated, cold or wet, "would be very unlikely to find favour with the courts", to quote David.--Editor.]

Whoever is appointed the new Mayor of London will just have to meet the unions' expectations at all times because, if they don't, we will hear of more strikes in the future – and I defend the unions for having them. Everyone's got to be happy.

Declare the rail services an essential service and ban strikes, forcing mandatory arbitration.

Strike action never seems to stay from the media headlines, but at the end of the day, it's the best course of action to show dissatisfaction.

I presume that the Underground and its problems and unions is the biggest headache any Mayor has. I can't understand why anyone wants the Job.