Posted 18th April 2016 | 2 Comments
Repeated attacks by rail cable thieves trigger appeal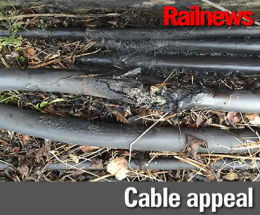 A SPATE of attacks on railway cables in the East Midlands has prompted an appeal for information from British Transport Police and other industry bodies.
The damage caused by attempts to steal cable has disrupted 331 passenger and 27 freight or engineering trains, some of which had to be cancelled while others ran late, with the total of disruption minutes standing at 2,654, or more than 44 hours. The cost to the industry has been put at almost £120,000.
The incidents took place west of Nottingham city centre on 12 March and 18 March, and then on 16 April. There were others at Long Eaton on 19 March and 23 March, and two more near Netherfield, on the line from Nottingham to Grantham, on 24 March and 28 March.
Detective Inspector Gareth Davies from British Transport Police said: "This spate of incidents has caused huge disruption to passengers and the rail network – not to mention the serious financial implications for the rail industry.
"Directed patrols are now being carried out across the area - including officers patrolling on foot, in vehicles and with police dogs - to catch and deter criminals.
"We also have a dedicated team of officers currently investigating a number of leads and we are doing all we can to find those responsible, but I would like to urge members of the public and scrap metal businesses to be vigilant and report any information, including suspicious people or vehicles near the railway, which may help us stop such crimes taking place and catch those responsible.
"The railway is also an extremely dangerous environment and anyone who risks their lives - while disrupting those of others - by carrying out this sort of crime needs to be found."
Andrew Conroy, acting customer experience director for East Midlands Trains, said that the effects of the repeated attacks were 'frustrating'. He promised: "We will continue to work with the British Transport Police and Network Rail to do everything we can to stamp out this criminal activity."
Anyone with information can call British Transport Police on 0800 40 50 40 or text them on 61016, quoting reference 104 of 12/04.
Reader Comments:
Views expressed in submitted comments are that of the author, and not necessarily shared by Railnews.
If they are found, they should be stuck in prison for the total time that every passenger spent on every train that was delayed. 331 passenger trains each carrying 300 people delayed for an hour comes out at just over 11 years. That should give them time to rethink their ways!