Posted 13th April 2016 | 2 Comments
New trains boost to deal with 'unprecedented' demand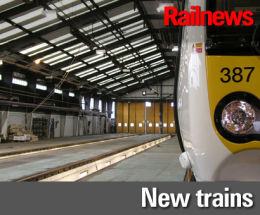 SIX extra 4-car units are due to enter service with c2c this year, which the operator says will provide an additional 13,000 peak hour seats.
The 387s are arriving three years ahead of a larger tranche of new trains, and are being leased until 17 4-car sets can be delivered in 2019.
This year's new trains are part of a build of Class 387 Bombardier units which had been ordered by leasing company Porterbrook, and which had been surplus until c2c stepped in to sign a short-term lease for them.
Some Derby-built Class 387s have been in service on Thameslink since early last year, and a further fleet of 29 units is presently coming into use on Gatwick Express to replace the older Class 442s on that route. In the longer term, Thameslink's 387s are expected to be cascaded to Great Western Railway suburban services between London and Oxford.
The new 387s now destined for c2c are due to start running on the London Fenchurch Street routes between October and December this year, subject to the final signing of contracts.

c2c needs more trains to deal with consistent growth in demand over the past few years which has strengthened to 'unprecedented' levels over the past six months, c2c said. When the 387s have arrived to join the present fleet of Class 357 units, c2c will be operating a total of 320 vehicles.
c2c is also changing its timetables again to deal with the increasing demand. c2c managing director Julian Drury said: "Extra carriages are absolutely vital for c2c to meet the surge in demand from passengers who want to travel. This agreement is hugely important, as we will now get new carriages on c2c within six months when they normally take years to be delivered. Combined with the other changes we are making in both the short- and long-term, this is the most significant increase in capacity for c2c passengers for over a decade.
"Thank you to all our passengers for bearing with us while we have been working so hard on getting these new trains. We have heard loud and clear that a number of peak-time services are very busy, and now we will be able to address the issues that our passengers have raised."
Rail minister Claire Perry said: "I have asked c2c to speed up the process of getting new trains for their customers and it is great to see this happening. This confirms c2c's well-deserved reputation for customer care.
"These extra carriages will make a huge difference, allowing passengers to benefit from longer trains, more seats and better journeys along the busy c2c routes."
Earlier this year c2c provided compensation to season ticket holders in cash, to apologise for the disruption they had faced following changes made to timetables in January.
Reader Comments:
Views expressed in submitted comments are that of the author, and not necessarily shared by Railnews.
c2c is probably THE best-performing franchise in the country in respect of customer satisfaction. The franchise lead by example, and franchises across the rail network which disappoint their customers should look at c2c. They might just learn a thing or two on how to give the customer the service that they deserve.