Posted 29th March 2016 | 12 Comments
Railways' rate of improvement is 'unacceptably slow'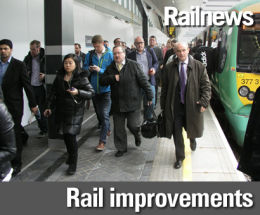 THE Consumers Association has claimed that there has been 'little meaningful improvement in passenger satisfaction' on railways over the past ten years. It has also voiced criticism of the way delays are handled as well as the value for money offered by rail travel.
The CA, which publishes the magazine Which?, analysed surveys of rail passengers between 2006 and 2015, concluding that satisfaction with rail travel had risen by 7 per cent since 2006 and that rail fares had risen by 54 per cent -- more than double the rate of inflation over that time.
The findings varied according to the type of travel being made.The average satisfaction level rose from 41 per cent to 48 per cent, but for commuters the figure was 34 per cent last autumn,​ ​having also improved by seven percentage points since 2006.
The satisfaction levels for business and leisure travellers have both risen by 6 per cent, to 47 per cent for business and 64 per cent for leisure.
The percentage of rail passengers who believed their journeys offered value for money rose in most cases, but the measure for Northern was 61 per cent in 2006 and 58 per cent in 2015.
Operators scoring less than 50 per cent satisfaction levels for value for money all carry large numbers of commuters -- Abellio Greater Anglia, c2c, South West Trains, Southeastern and Southern, while the highest value for money score was recorded for open access operator Grand Central, at 76 per cent.
The amount of satisfaction with how delays are handled rose by an average of 4 per cent over the decade.
Which? has recently made a successful 'super-complaint' about the way passengers are informed about their rights to compensation when trains are delayed, and the Office of Rail and Road has responded by calling for operators to provide clearer documentation, more publicity and additional staff training.
​​Which? executive director Richard Lloyd, said: "Despite repeated claims that the railways are improving, passengers say that rail travel offers little more value for money than a decade ago. What's more, people have found even less of an improvement in the way train companies handle delays. This is an unacceptably slow pace of change, so the Government must quickly now give the rail regulator the powers and duties it needs to be an independent consumer watchdog that can hold train operators to account."
A spokesman for the Rail Delivery Group said: "Satisfaction among rail passengers is up significantly, according to the latest independent survey by Transport Focus and by a large margin compared with a decade ago. But we know that we can do better to run more trains on time more often." The RDG also pointed out that additional revenue from the railways is being reinvested in the network.
The Department for Transport made the same point about rail investment, and said that the government had ended a series of 'inflation-busting fare rises'. Ministers have promised that fares will only rise in line with the Retail Price Index for the rest of the present Parliament.
Reader Comments:
Views expressed in submitted comments are that of the author, and not necessarily shared by Railnews.
I think the franchise-based system for the railways is – regrettably – here to stay. The DfT think it's a smooth operation, but I can categorically say that it isn't.

If nothing else, it's a refreshing change that fares will not be on the up for the duration of the Parliament. Finally, the Tories have done something right for once – but it's nothing to get wholeheartedly excited about, and that – the British public – is saying something.

Which? subscribers and south-east based commuters are surely a mutually exclusive breed? They can never find true happiness with train journeys.

Also there is a finite number amount of train capacity, but London and the SE still seems fixed on a 9-5 mentality.

And where is all this 'working from home' that was so loudly trumpeted 10 years ago?

Perhaps the TOC's would perform better , especially towards customers, if there were more effective competition on the passenger railway ( rather than the current setup of local private monopolies called "franchises") ?

I agree completely with the comments regarding complaints, try finding where to make a complaint on the Northern rail website, that dosen't involve starting a Twitter account!. Tony Pearce's comments remind me of an interview I had at the then Greater Manchester PTE for a rail officer, at which I was asked how I would discourage passengers from using the railway!

Demand seems to keep rising for railway travel, yet to the passenger, very little is being done about it other than the frequent issuing of soundbites from the government/DfT and TOC's about how much they are spending and what they are going to do. Arriva have taken over the Northern rail franchise and promptly had an advertising campaign claiming several thousands of extra seats will be available from the handover date, but neglected to add, from 2019 onwards! All of these ads have now been removed after a short period on display.

Much has been said about the new Northern rail fleet, but I have seen nothing to compare the number of seats available when the fleet is fully in service and the current situation or when the new fleet will be completely in service. While 'professionals' may offer the usual 'time/phasing'procurement and other economics, etc. reasoning' none of this really matters to commuters who are continuing to be crush-loaded into the existing fleet, without any sort of reassurance that the new fleet of trains will have excess capacity when implemented in which to accommodate further demand growth.

As a northern commuter, it does seem that the railways are very much London-centric, improvements and rolling stock do seem to be implemented much quicker in London and the southeast than any where else in the UK. The South West seems to be particularly left out. Maybe, if Network rail and the DfT were regionalised, with budget control on a regional basis rather than based in London/South East England, some of these road and rail improvement schemes may get off the ground a bit faster and be better tailored to suit the areas in which they are based?

Compensation requests are foolishly swept under the carpet because TOCs only think of clinging onto money for their own personal gain. Passengers are then left out of pocket as the money goes into the 'greedy' managements' piggy banks. The DfT would reject these allegations, but we – the fare-paying passengers, who deserve a 'world-class' complaints system at EVERY TOC but don't get it – are left disgruntled.

I do wonder what planet some of these critics are living on.
Fares have risen as a direct result of Government policies and anyone spending even a few minutes at Clapham Junction, East Croydon or Birmingham New St. will observe how close to saturation our railways are.
Belatedly there are now major efforts to increase capacity but this all takes time. We live in a so-called democracy and so planning
planning, design and execution take a long time.
Just consider the recent delays to work at Cow Lane, Reading, the Ordsall Curve in Manchester and problems in Oxford area to see what delays occur due to activities of even one objector. This and many more local problems are why some commuters cannot see the wider picture.

Once again Which recycles long perceived prejudices regarding the rail industry and the general media lap it up repeating it as gospel. The challenge for the RDG is to present a united front on behalf of the whole rail industry to demonstrate that this is a vibrant and growing business investing in a long term future. That so much investment is being made and remains unreported by the general media is very disappointing.

Despite continuing investment in rolling stock & infrastructure in the south east overall the TOC's record indifferent satisfaction from their commuting customers. Construction of Crossrail & Thameslink has involved considerable infrastructure work affecting the existing network and this has impacted on the performance of the respective TOC's. The capacity enhancements at Waterloo are likely to inflict short term pain on the SW route. As these projects come to fruition at the end of the decade it will be interesting to see if the influx of new rolling stock & enhanced capacity has a marked effect on the satisfaction matrix.

How does the industry win the value for money argument? It can be argued that seasons & advance tickets provide excellent value. Advances in ticketing technology are opening up new ways to enable passengers to customise their fare to their journey. Will this change the perception of satisfaction with fares? A successful expanding railway has seen government support for the industry decline as a proportion of industry costs. Isn't this where overall value will be judged?



I agree with Chris Green, the TOC complaints procedures are designed to be obtuse, lengthy and difficult to dissuade compensation. Where is DfT when one needs them?

Running a Railway that is London-centric, built to a very small Loading Guage and surrounded by Housing throughout much of London and Southern England means its almost impossible to run any more or longer or larger Trains to deal with the huge numbers wanting to travel into and around London. It doesn't matter whether the Railways are Privatised or Nationalised it just can't be done. Any other Industry or Organisation would raise the prices until Demand equalled Supply.

One of the biggest factors is that TOCs' complaints procedures don't meet passengers' needs, especially for compensation requests.