Posted 21st March 2016 | 8 Comments
Number of trains in British fleet 'could almost double'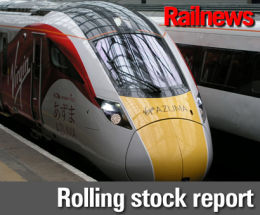 THE number of trains in Britain is set to increase dramatically over the next 30 years in response to growing passenger demand, according to a new industry report.
The latest Long Term Passenger Rolling Stock Strategy, the fourth in the series, has just been published by the Rolling Stock Strategy Steering Group, which has members from the Rail Delivery Group and rolling stock companies.
It predicts that the fleet will have grown by between 51 and 99 per cent by 2045, with between 13,000 and 20,00 new electric vehicles having been built. It also expects that more than nine out of ten trains will be electrically-powered by 2034.
To keep up with demand, an average of 17 vehicles a week will be built over the next five years alone.
The joint chairs of the Steering Group are Angel Trains CEO Malcolm Brown and the managing director of the rail division at National Express, Andrew Chivers said: "Passenger numbers have doubled in the last 20 years and are predicted to keep rising, therefore we must expand Britain's fleet of trains to avoid crowding and to meet the challenges ahead.
"Passengers will benefit from billions of pounds already being spent on more modern, more comfortable and more reliable trains. More electric vehicles will improve services with shorter journey times and quieter trains."
RDG chief executive Paul Plummer added: "Passengers want better services and faster journeys so we are investing in a new generation of trains with more carriages, more seats and better facilities. Rail is ever more important in Britain and it is vital that we plan long-term for the bigger, better railway that the nation and our economy need."
The publication of this report has followed the unveiling of an Intercity Express train in London on Friday. Virgin Trains East Coast said its new fleet, built by Hitachi and mostly assembled in Newton Aycliffe, will be in service in 2018. The fleet is being dubbed 'Azuma' -- 'East' in Japanese.
At the ceremony at King's Cross, Virgin Group founder Sir Richard Branson said: "This is a hugely important moment for passengers on the East Coast. A line which has witnessed the historic Flying Scotsman and Mallard will now see passenger services transformed with the UK's most advanced long distance trains. Our customers on the West Coast have already seen what Virgin can bring to train travel and how the Pendolinos have made a huge difference to speed and comfort. Our new fleet of Azumas will bring a similar transformation to the East Coast, and propel one of the UK's most prestigious lines into the 21st century."
Reader Comments:
Views expressed in submitted comments are that of the author, and not necessarily shared by Railnews.
I suppose all these new trains will be built by non british firms. Onetime we use to build trains for the world now the world builds our trains.

Perhaps today's train (or are they aircraft?) designers would like to explain that the most comfortable train interiors around, with comfortable seats that line up with the windows, and nests of four seats around a table, and plenty of legroom, and adequate luggage accommodation, can be found........er........only on heritage railways and in the National Railway Museum!

Half brake vehicles aren't a bad idea. Cycles and luggage aside, at least they'd provide adequate standing room!

As a commuter, I am convinced rolling stock is designed by people who don't use it. I just hope the rolling stock delivered is actually fit for purpose. The Pendolinos are technically excellent trains but their luggage capacity is woeful for long distance passengers with large/lots of luggage. the luggage racks seem designed purely for business travelers with lap-tops for some reason, and the stench of the chemical toilet is nausiating if you have the misfortune to be sat near the vestibules! Transpennine seem to think outer suburban body shells make good long distance trains, which unfortunately also have woeful luggage capacity and no catering except for a trolley which seems to never venture out of First class when I have used these trains. Virtually non of the current body designs cater for cyclists, whose facilities seem to be retro-fitted into the body and invariably mean the use of tip-up seats being locked out of use in order to accommodate a single cycle. In the 'bad' old days of BR, at lest there was either half or full brake vehicles in most trains, in which luggage, cycle, passengers could be accomodated. Surely it is not beyond the wit of man (even if it is beyond the wit of accountants) to include such areas in modern rolling stock? Rant over with!

I can forsee four-car units on Cross Country for the forseeable future, as it is not used for transporting MPs to Westminster.

Looks like Mr. Branson is trying to claim the credit for Virgin being responsible for the new trains. How surprising.
[If so, he is not the only one. There is a widespread misconception that TOCs are responsible for new rolling stock, when of course the specifications are really decided by the DfT.--Editor.]

I can't wait for the Class 800s and 801s to enter service – they're going to improve the passenger experience substantially. Yes, there's always going to be one or two who will dislike the new trains – but these passengers simply live in the past and will never understand that the old rolling stock does not meet today's standards.