Posted 8th March 2016 | 8 Comments
Competition authority calls for more open access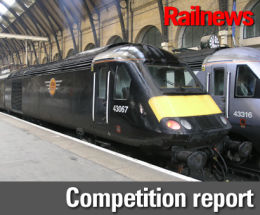 UPDATED 9 March 10.45

THE Competition and Markets Authority has called for greater competition on the railways, with a substantial increase in the number of open access operators. However, such operators could be called upon to help subsidise unprofitable routes and make a greater contribution to network costs.
There has been a mixed reaction. There has been some support, but transport campaigners and the RMT are opposing the proposals, which the union describd as 'ludicrous', while the Rail Delivery Group said a 'joined-up approach' was the priority.
The CMA said its report had 'identified a range of benefits that could arise from allowing other operators to run competing services against the existing franchise operators'. It highlights the East Coast Main Line, where operators like Grand Central and First Hull Trains have been able to run competing services. Although these services represent fewer than 1 per cent of passenger kilometres, the CMA claimed the 'the evidence of resulting benefits has been underlined by examples of competition between passenger rail operators in other European countries and in other transport markets such as the GB rail freight sector, air transport and airports'.
It concluded that an increase in on-rail competition could result in benefits for passengers and taxpayers, including lower fares and growth in passenger numbers, greater incentives for operators to improve service quality and innovate, greater efficiency by train operators and more effective use of network capacity.
The CMA said increasing the number of open access services or splitting franchises offers the most immediate benefits from increased competition – but that a move towards a system of multiple licensed operators replacing franchises could also be worth consideration in the future.
The report is proposing that competing open access operators should be able to make more of a contribution than at present through track access charges and through a Public Service Obligation levy to contribute to the funding of important but unprofitable services.
CMA chief executive Alex Chisholm said: "We've found that there is strong evidence, both here and abroad, of the benefits that the introduction of competition on main line intercity routes can bring. Where competing operators have been given the opportunity, the need to attract passengers who have a choice can mean lower fares, new routes and destinations, more innovations and flexible ticketing. Not only does this offer a better deal for existing travellers but it can increase overall passenger numbers by attracting new customers to the railways."
"In a more competitive environment companies will push to be more efficient and for there to be better use of existing capacity – so there are benefits for both the network and the taxpayer who helps subsidise the railways.
"There are legitimate concerns about the impact that greater competition might have on the income received by government from franchise operators but so far that concern has been tackled in a way that hinders new entrants. We think a better way would be to have a level playing field – where competing operators are able to make more of a contribution to network costs and to funding unprofitable services. In return they would get more freedom to compete for business against the franchise operator."
Paul Plummer, chief executive of the Rail Delivery Group, said: "The rail industry is actively engaged in the debate over how to harness the best aspects of competition to deliver even better services. We will continue to work with governments and the regulator to balance the opportunities for more competition in rail with the wider complexities and practical challenges of running this vital public service.
"It is important that everyone is clear about what the nation wants from the railway and how we can best achieve this. We must take a joined-up and consistent approach to competition, freight, franchising, regulation, capacity, the shape of Network Rail and how we fund much needed investment. Considering these in isolation is unlikely to deliver the best results for customers, freight users or taxpayers."
However, Which? executive director, Richard Lloyd supported the CMA, saying: "Our annual rail survey shows that millions of passengers are not satisfied with the service they are receiving on Britain's railways. But on open access lines, where there is more competition between train companies, satisfaction is significantly higher.
"More must be done to drive up standards for passengers - they shouldn't have to wait until the end of a lengthy franchise for services to be improved. We urge the Government to listen to the CMA and look at what can be done to increase competition on our railways so passengers get a better service."
Meanwhile the Campaign for Better Transport said passengers would benefit more from a 'joined up network'. CBT chief executive Stephen Joseph said: "The Government has committed billions to upgrading the railways to meet record passenger demand. Rather than handing this much needed capacity to open access operators, as the Competition and Markets Authority proposes, communities and the economy would benefit far more if train companies worked with new city regions and combined authorities on joined up networks of public transport designed to support the local economy."
The RMT described the CMA's proposals as 'ludicrous', The union's general secretary Mick Cash said: "The idea that the solution to the profiteering and fragmentation that has wrecked Britain's railways over the past two decades is more privatisation is frankly ludicrous and just exposes the Competitions and Markets Authority as wholly unfit for purpose.
"Opening up the lucrative routes to some kind of Wild West free-for-all where the bandit capitalists slug it out station by station, track by track would reduce what is left of our rail network to deregulated and dangerous chaos."
Reader Comments:
Views expressed in submitted comments are that of the author, and not necessarily shared by Railnews.
I can assure you that travelling Reading to London was a lot better when we had 3 companies to choose from. SWT is of course still there but the 'local' Thames Trains was swallowed up by First Great Western and the competition on the lines to Paddington ceased, as did many of the 'special offers'

It may be interesting here to look at the one prime intercity route where there is already "real" competition . London - Birmingham.

Virgin, London Midland and Chiltern respectively offer speed plus frequency, cheaper fares and good customer service ; passengers can choose which offering suits them best.

My guess is that competition would generally result in different operators aiming for different parts of the travel market, rather than in "head to head " / "like for like "operations.

Isn't this proposal rather spurious? Travellers want reliable, comfortable and reasonably priced trains. Today we see some operators trying to keep costs low by employing insufficient drivers which results in train cancellations at weekends and during disruption. This can be easily addressed by fining operators much harder for cancellations under their control. It would then be cheaper to employ the correct number of drivers rather than pay the fines. Having Open Access and more operators would not address that problem.
Unfortunately many new trains are less comfortable than previous versions with less room and harder seating. I cannot see how having additional operators will make train designs more comfortable unless they order new better trains which is unlikely as they want to keep their costs as low as possible.
Lastly on price, the government must look at overall travel not the rail industry alone. It would be far better and cheaper for the country to have more people attracted to using cheaper trains than sitting in expensive traffic jams on highly congested and polluted roads. Whether our rail system can cope with a sharp increase in passengers until HS2 opens is another matter.
Trying to squeeze more operators onto mostly double-tracked routes would, I suspect, only mean a worse service for passengers. For example, Waterloo to Portsmouth has a good semi-fast two services an hour, plus stopping services. To add another operator on that route would be virtually impossible, because of congestion at Waterloo and Portsmouth, without transferring some of the existing services to the new operator. All that would do is reduce the travelling options for passengers as tickets would only be valid on one operator's services. Miss one train and instead of waiting 30 minutes for the next you may have to wait an hour. Some improvement!


We have a basic choice - either public accontability comes through effective competition or through heavy regulatory control. If the latter, then we lose the main positives of privatisation - enterprise, innovation, adaptability and attraction of private capital.

The present franchising system in effect does lose these positive attributes and needs change.

Of course, some operations ( commuter, eg.) are natural monopolies with captive markets. Perhaps these could be accountable as local mutuals / cooperatives with diectly elected local managements ?

Who is the competition? If we assume we are competing with buses, cars and flights, competition between railway companies would be fruitless (Through competing with ourselves we lose site of competing with others).

Suggest we focus more on competing with these other forms of transport to deliver a better product overall, in the eyes of the end user.

All very fine in theory but as the reality of open access on ECML shows any alledged benefits take years to achieve while the beuracratic haggling over path allocation is resolved. While true open acess operators have tapped marginal markets the evidence is that they would target key profitable flows at the expence of the majority of the network. Franchising may be a flawed way of running a railway but it doest acknowledge the value a comprehensive network provides.

Besides is this the CMA that didn't recognise the potential anti competitive stranglehold of Virgin/Stagecoach monopolising the north/south inter city market by operating the WCML/ECML/MML franchises?

Open access operators do make the railways more competitive – passengers would be spoilt for choice. But where would the extra capacity come from on certain routes?