Posted 23rd February 2016 | 18 Comments
Forget Crossrail – now it's the Elizabeth Line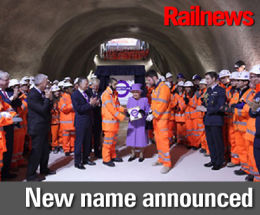 LONDON'S new underground railway, which has been built as Crossrail, will have a new name when trains start running in 2018.
Her Majesty the Queen visited the station site at Bond Street today, where the Mayor of London announced that the route will be known as the Elizabeth Line.
The Queen, who is 90 this year, toured the site this morning with transport secretary Patrick McLoughlin, London Mayor Boris Johnson, transport commissioner Mike Brown and Crossrail chief executive Andrew Wolstenholme.
She was presented with a commemorative Elizabeth roundel, and met a number of people involved in the construction of Crossrail, including apprentices, engineers and future train drivers.
The Queen has made a number of visits to the Underground during her life, starting in the 1930s when she was taken for a ride as a young Princess on an Inner Circle train. After becoming the Sovereign in 1952, she travelled in the cab of a Victoria Line train to celebrate its opening in 1969 -- an event which was also notable because when she was invited to 'buy' a ticket, the machine rejected the Royal sixpence.
She opened the first Underground station at Heathrow -- originally Heathrow Central -- in 1977, and on a less happy occasion she unveiled a plaque to commemorate the victims of the 2005 London bombings at Aldgate station in 2010.
Most recently, she visited Baker Street station in 2013 to celebrate the 150th anniversary of the Underground.
London Mayor Boris Johnson said: "Crossrail is already proving a huge success for the UK economy, and as we move closer to bringing this transformative new railway into service, I think it's truly wonderful that such a significant line for our capital, will carry such a significant name from our country. As well as radically improving travel right across our city, the Elizabeth line will provide a lasting tribute to our longest serving monarch."
Transport secretary Patrick McLoughlin added: "Given Her Majesty the Queen's long association with UK transport, it is very fitting that this vital link across our capital will be named the Elizabeth Line in her honour. This is an example of British engineering at its best and will transform the way people travel across London and beyond from 2018, bringing better and faster journeys, while boosting jobs and driving economic growth."
Reader Comments:
Views expressed in submitted comments are that of the author, and not necessarily shared by Railnews.
Though a fervent monarchist this is a ridiculous idea. A metro line should indicate in some way what it does and where it goes. (And yes, other underground lines in London are equally suspect. For example the Northern line which certainly doesn't go north from Edgware!!) Or simply identify them with a colour.

Cross London line A would make more sense in 50 years time,
Elizabeth line , if it must be used, should be the Queen Elizabeth line to make any sense..

It took fifty years of the Queen's reign for CrossRail to make its way from drawing board idea to nearly finished project. Perhaps we will have to wait for another reign to be moving towards its inevitable close before CrossRail 2 is being completed.

At least CrossRail 1 had the promise that CrossRail 2 was not far behind ... but I doubt if they will come in threes. After all it would not be British to do things too quickly. As for consultation, we are 'subjects', not the 'citizens' we should be!

Perhaps the line should have been named the Johnson line? Only kidding. I don't ever entertain the ideas of naming lines after high-profile people. I prefer to just keep things simple.

Hmm ... I can see the case for naming the line over than Crossrail - it might be easily identifiable now but it might get a bit messy when there's a Crossrail and Crossrail 2 - but Queenie's already got one line named after her.

One observation though: BoJo couldn't have easily done this on his own. He would, at the very least, have needed the co-operation of the government. I wonder if they agreed to this as a sweetener in an attempt to get him on side for the EU referendum. If so, it didn't work.

How very democratic of Boris. How many Londoners did he consult before coming to his decision?

'Elizabeth Line' sounds daft, 'Elizabethan Line' would be better, but what's wrong with Crossrail? It's part of the national network, not an extension of the tube system!

Elizabeth Line sounds daft - Elizabethan Line would be better but I prefer Crossrail. It's part of the national network, not the tube system!

I like the idea of naming Crossrail by a name, and naming it after our Queen is a great idea!!! It means there will be little confusion when Crossrail2 starts construction (although I'm sure plenty of people will still call it Crossrail as it's been known as Crossrail for so long). Despite it being a regional railway line and not technically part of the tube, the Metropolitan Line was originally a regional railway, extending miles out from London into Buckinghamshire when built, and nobody complains about that these days!

What a splendid idea – NOT!

No tube line is named after a person. The Victoria Line is named after the station. Anyway Crossrail is not an Underground Line but a Regional railway line, so Crossrail is perfectly fine.

The megalomaniac Boris is pulling out the stops to take over the leadership of the Tory party after he finishes his term as Mayor. I wonder who he consulted before making this announcement.

I suggest all republicans refer to the line simply as "The purple line"

Not a fan of this decision, after all she already has the Jubilee line, along with London's (and probably Britain's) most famous landmark, named in her honour, isn't that enough for one city?

Besides, doesn't the name "Elizabeth line" rather imply it's a part of the Tube system, rather than what it actually is - the first phase of a new rail network that will most likely involve at least two subsequent lines, and should really incorporate Thameslink too.

Quite the most ridiculous idea but typical of the lunatics now running the asylum.

Like it or not, Royalty is NOT inclusive, and the imposition of a name that many citizens find offensive does not reflect the inclusive nature of the modern London we are so proud of.

What is wrong with continuing with CROSSRAIL - the name all Londoners are familiar with?


All aboard the 'Lizzie line'

Seriously?

While I like the queen, calling crossrail the Elizabeth line does not make sense. Crossrail would be much better.

The cost will be negligible - apart from the odd covered sign at Tottenham Court Road, no branding has been applied. The same thing happened to the Jubilee line in 70's - it was originally called the Fleet Line until a year or so before opening.

Pathetic pandering to royalty.

What has Liz done for transport? She rides limos everywhere. Keep it 'Crossrail', it does what it says on the tin, crosses London quickly. Fits in well with Crossrail 2, which will also cross London quickly.


What a toad Boris Johnson is, think of the money spent on the change, it should be Crossrail one so people know what it does. Will Thameslink become the Philip Line?