Posted 18th February 2016 | 2 Comments
Confusion grows over Bombardier job cuts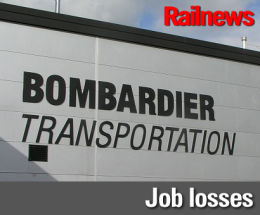 BOMBARDIER has denied a union claim that 270 jobs are to be axed at its train-building plant in Derby.
The company says it is 'right-sizing' its businesses and cutting 7,000 jobs worldwide over the next two years including 3,200 in Transportation, with 1,350 set to be lost in the UK. However, more than 1,000 of these will be in Belfast, in the aviation division.
The company has been under pressure for some time, following disappointing results in its aviation business which have been offset by a more buoyant rail sector.
President and CEO Alain Bellemare said: "We are turning Bombardier around to make this great company stronger and more competitive. Over the past year, we renewed our leadership team and developed a clear plan to significantly improve our performance. We de-risked major development programs and stabilized the company, securing our liquidity position and taking a series of actions to rebuild margins."
A spokesman in Derby confirmed that 270 of the axed rail jobs within Transportation will be in Britain. Of these, 44 will be permanent posts and the rest will be employees with fixed-term contracts.
The RMT has called for government intervention over the rail losses, which it claimed would include 270 at Derby. General secretary Mick Cash described the move as 'criminal'.
But the Bombardier spokesman in Derby told Railnews no decision had been taken about where the jobs will be cut. The current workforce consists of some 1,200 at Derby plus 1,800 at other rail-related sites in Britain. These include several major traincare centres, such as New Cross Gate on London Overground and the Central Rivers depot which maintains Voyager diesels for CrossCountry and Virgin. There are also Bombardier sites in other towns including Crewe, Swindon, Ilford, West Ham and Plymouth.
A review has now been launched to decide where the British rail sector jobs will be axed, but the company said some of the losses could be offset by selective recruitment as well. Final figures are not expected for weeks and possibly months.
However, the Derby spokesman did confirm that none of those affected will be workers on the production lines at the Litchurch Lane plant in Derby, which have most recently been producing Electrostar Class 387 sets for Thameslink and Gatwick Express. The first of the Gatwick sets have been placed into trial service between Bedford and Brighton, before starting to take over on the airport route at the end of this month. The Derby plant is also currently gearing up to begin production of 600 Crossrail vehicles and a new fleet of Aventra sets for the London Overground inner suburban lines from Liverpool Street, which were taken over by TfL last year.
Reader Comments:
Views expressed in submitted comments are that of the author, and not necessarily shared by Railnews.
With all the uncertainty surrounding the workers' futures, you cannot help but to think that they'll be biting their fingernails with trepidation. Let's hope the end result won't be too bad because it's upsetting to see a gargantuan amount of people losing their jobs - particularly when the cost of living is on the rise.