Posted 17th February 2016 | No Comments
Derby company becomes train operator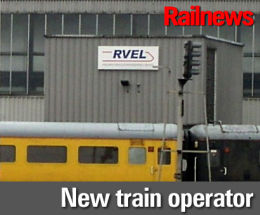 A DERBY-based engineering company has become Britain's newest train operator, after approval was granted by the Office of Rail and Road.
RVEL has been granted a Safety Certificate and Non-passenger Train Licence. It decided to apply for certification after the company was acquired by US firm Loram in 2014.
The initial Safety Certificate, covering a period of five years, will allow RVEL to operate trains between its base in the Derby RTC Business Park and Old Dalby test track. RVEL hopes to run its first train within a few months.
There have also been some changes at board level. Andy Lynch remains managing director, but his fellow directors now include Gary Stewart, who joined from Northern Rail last year. He has been named as safety and assurance director.
Andy Lynch said: "We are delighted that the Office of Rail and Road has granted RVEL a Non-passenger Licence and Safety Certificate.
"The ORR Safety Team has demanded evidence of the very highest standards of compliance from RVEL prior to granting this operating documentation and I am enormously proud of my team for meeting ORR's exacting standards.
"This is the start of RVEL's journey as a train operator, and we look forward to growing our capability to meet our customers' and the industry's needs over the coming years."