Posted 3rd February 2016 | 9 Comments
Passenger figures break 90-year record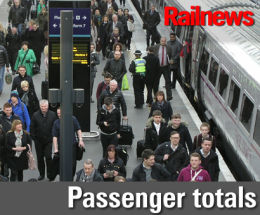 NEW figures published by the Office of Rail and Road reveal that more people are now travelling by train than at any time since the early 1920s.
The measurement, of individual journeys, shows that passenger figures are now challenging totals not seen in peacetime since dancing the Charleston was the latest craze.
The official total for individual journeys in 2014-15 was 1,393 million, compared with just 589.5 million in 1995-96. The rise in the nineteen years since then amounts to 136 per cent.
Until this year, the highest total for individual journeys since the 1920s had been achieved in 1945, when 'demob' traffic of forces personnel returning home from wartime service briefly swelled the total to 1,372 million.

Before that, the last comparable figure occurred as far back as 1923, when 1,319 million journeys were recorded jointly by the 'Big Four' companies. But the railway network then was much larger – roughly twice the size – which means that the system is now by far the busiest it has ever been, with passenger kilometres in 2014 provisonally calculated as 61.8 billion by the ORR. Such a figure is easily an all-time record, because the length of the average rail journey in the 1920s was much shorter.
The latest figure of 1,393 million has been calculated as 'end to end' journeys, while the even higher figures often quoted by the industry and government come from the modern 'Lennon' database, which counts each 'leg' or train involved. This exaggerates the total by more than a fifth, so that the latest Lennon figure now stands at 1,654 million, which is also a new record.
The transport secretary Patrick McLoughlin told Railnews that the government is taking action. "We are building 3,000 new train carriages, and laying more tracks," he said.
Network Rail itself is tackling the challenge in more than one way, pointing out that reinforcing the infrastructure by simply laying more track or adding platforms and loops is expensive. Although new track and related infrastructure continues to be installed in strategic places, Network Rail is also pointing to the 'digital railway' as an alternative and more effective solution.
New systems of traffic management and signalling can improve capacity dramatically by allowing trains to run more closely, but still in complete safety. One digital railway project is aimed at improving capacity on the heavily congested 'Wessex lines' from London Waterloo, while the plan to run Thameslink trains through central London every 2.5 minutes from 2018 would probably not be achievable without automatic train control.
Reader Comments:
Views expressed in submitted comments are that of the author, and not necessarily shared by Railnews.
In the route studies for the south east (dating from around 2007 I think) it was estimated that there was already unserviced demand of about 10% on some routes. On the SWML the growth until recent years was about 5% per annum on some services, but growth now seems to be constrained at about 2%. The implications being that many services on the route are now saturated. There is plenty of anecdotal evidence for this.

The adoption of ATO on ETCS v3 with TMS will give a boost to capacity, as would CRx2 if it goes ahead, but they are about 8 and 15-18 years away. So what is to be done in the meantime? Broadband, global recession and completion of the 10-car running, aside, the next step is probably yield management on this route.

We keep hearing complaints about 2 car trains in the north and yet the recently announced order for new trains includes a number of 2 car trains !

So why did they not order 3/4 car trains ?

[I am guessing that these formations give the operator greater flexibility. Two-car trains can run in multiple at busy times and as single units on wet Sunday evenings! --Editor.]

In the northwest two-car formations of classes 142, 150 and 156 have been the norm on many services. Thankfully, the painfully slow electrification of the 'Lancashire Triangle, of which only the Manchester to Liverpool and Liverpool to Ince Moss Junction sections have been completed so far, has released some units for redeployment elsewhere, allowing a number of peak period commuter trains to be doubled in length. Even so a number of services are still operated by single units and are still packed.

We are told the 'new' class 319's for the Northern franchise, will increase train lengths to meet demand, however these 4-car trains will largely replace 2x 2-car formations, effectively not increasing passenger capacity by much. Meeting existing demand is a short-term and pointless objective, particularly if passenger numbers are growing so quickly. New rolling stock needs to be ordered, which in the short-term may provide an over-provision of capacity, but will be able to meet demand in the longer term before becoming as over-crowded in the long-term as existing rolling stock is now. This is why I believe Northern's much trumpeted new rolling stock order is a bit of a let-down as it will include 2-car diesel units.

With regard to platform lengths, many stations were built to accomodate longer trains, however subsequent years saw a reduction in patronage and associated train lengths, which also saw sections of platform not maintained and in many cases removed. In some cases, surely it is not beyond the wit of man to reinstate longer platforms to accomodate longer trains to meet demand?

Yes, I agree with the Editor's point here ; the" frequent short- formation problem" only crops up on certain lines, with many lines already running near capacity with long trains.

One such is the ECML ; on this the two open access operators are mainly using 5 car 180's. I wonder whether it would make sense, if they want to serve additional destinations without needing more main line paths for them to adopt the practice of running two 180;s in multiple which then divide at York, Grantham, etc. /

I don't think platforms on the Transpennine North route will ever be able to take 10-car trains (if those lengths are planned, which I don't think they are), unless platform lengthening to accommodate 10 cars is considered. Very few platforms along the route can't even take 8-car formations (which I think is being lined up for the future), with the exception of Stalybridge as that station received investment a few years back. My home station Huddersfield and neighbouring Dewsbury will certainly need platform extensions, if trains longer than 6 carriages are to be taken.

Just a general point :- by and large the most economical way to increase the number of seats on a particular route is to lengthen train consists with extra vehicles, rather than increasing service frequencies.

I am conscious that some main lines ( Manchester - Leeds, eg.) seem to host services of frequent short - formation trains.

[However, the real 'pinch point' routes, such as those from London Waterloo, are already carrying many 10- and 12-car trains. Even 12-car trains are often too long for the platforms at many stations, and going beyond 12 cars has major implications for junction layouts as well as platform lengths. In other words, train-lengthening has its limits, which were reached on the busiest lines some time ago.-- Editor.]



They say that the UK's railways are the fastest growing in all of Europe. Well, to keep fulfilling that quote, our infrastructure needs to kept up to modern standards expected of a world-class rail service, which the government are managing to deliver with the string of projects that are in progress and others lined up for the future.

I find this growth fascinating. Whilst obviously some of the growth can be put down to investment by Government and Railway Companies not all of it can. Fares have gone up faster than inflation and moans are heard all the time in the popular press about the UK having the 'Highest Fares' in Europe. Railways are always thought to be the 'preserve' of the richer members of Society, with Buses for the 'Poor'. I would like to see a comparison of the age groups travelling and the distances covered for now and say 20 years ago. I am guessing that the average age of those travelling is now much younger than it used to be, - or is it the Pensioners who now have more money and freedom and are living longer who are boosting the numbers ?

That hasn't come as a huge surprise – rail travel is growing in popularity each year as more people are turned away from their cars. The Department of Transport and TOCs just need to make sure they tackle the long-standing conundrum of overcrowding, which is only going to get worse as the passenger numbers increase. You aren't guaranteed to get a seat for the price of your ticket – and I think that's particularly tough to take if you are travelling a great distance (Newcastle to Birmingham, for example). The chances of gaining a seat need to be enlarged, thus more train sets need to be built to achieve this goal.