Posted 20th January 2016 | 2 Comments
Eurostar sale evidence of 'undervalued' assets–MPs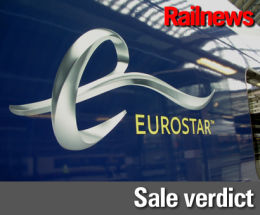 A REPORT by MPs has warned that last year's sale of the British stake in Eurostar for £585 million is further evidence that state-owned assets are undervalued.
The Canadian finance house and institutional investor Caisse de dépôt et placement du Québec was reported to have bought 75 per cent of the British share, or 30 per cent of Eurostar as a whole, while the British investment fund Hermes Infrastructure bought the rest.
The consortium paid £585.1 million, but another £172 million was also raised because Eurostar agreed to redeem the Government's preference share.
The National Audit Office has already concluded that the sale last March left taxpayers more than £2 billion out of pocket, after contributions to Eurostar from the public purse had been taken into account.
Now the House of Commons Public Accounts Committee has criticised the amount raised, although it conceded that the transaction was 'well-handled'.
It has also labelled a delay by the Department for Transport in publishing an evaluation of HS1 as 'unacceptable', claiming that the lack of data denied Parliament 'important information' when it considered the case for HS2.
PAC chairwoman Meg Hillier said: "The public's stake in Eurostar was sold for significantly more than valuations had anticipated -- but also significantly less than the total invested by taxpayers.
"We now also know, following publication of the government's much delayed report, that the costs of HS1 far outweigh its economic benefits.
"Taken together these facts raise serious questions about the government's approach to valuing public assets, as well as its commitment to considering the value for money of public spending on such expensive projects."
She also cited the similar case of Royal Mail, whose shares soared after it had been sold.
The Treasury maintains that there had been a good return for the taxpayer. It responded: "The government welcomes the committee's conclusion that the sale of our stake in Eurostar was well-handled and secured a good return for the taxpayer. Releasing public assets we no longer need is at the heart of our long-term plan to tackle Britain's debts and boost economic growth, and that's why we've recently identified up to £4.6 billion of further asset sales, to help build on the huge progress we've already made."
Reader Comments:
Views expressed in submitted comments are that of the author, and not necessarily shared by Railnews.
Well it's reassuring to know that the Treasury know how to handle a sale. Then again if you're undervaluing the assets it shouldn't be hard!