Posted 12th January 2016 | 5 Comments
Bidders for £400m Merseyrail contract are shortlisted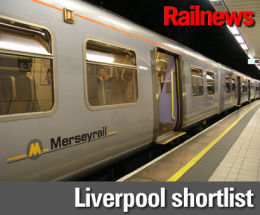 THE shortlisted bidders for a £400m contract to provide a new fleet for an upgraded and expanded Merseyside network have been announced.
Merseytravel said it had considered what should be done with its ageing fleet of trains, and its preparation of a business case included the possibility of further refurbishment.
However, it has concluded that new trains by the early 2020s are the best option to meet demand, which is growing by 2.5 per cent annually. It has been calculated that parts of the network could be significantly over capacity -- by as much as 60 per cent -- by 2043. It said the improvements could boost the region by £70 million a year, and create 1,000 jobs.
The five shortlisted companies are Bombardier, CAF, Mitsui, Siemens and Stadler, after the tender process was launched last October. The whole project includes new trains and also upgrades to stations, depots and the power supply. Extensions of Merseyrail services to such places as Warrington and Crewe are also possible.
Merseytravel chair Cllr Liam Robinson said: "We are extremely pleased that our project has attracted the interest of leading names in the industry.
"All our five candidates have extensive experience of providing trains, maintenance services and depots. They all have a strong international pedigree as well as a good track record here in the UK.
"This announcement marks an important next step in the project – keeping up the momentum and moving another step forward towards new trains on the Merseyrail network. Now we want the bidders to use their expertise to help shape our vision, demonstrating innovation and a real understanding of the importance of the network to the Liverpool City Region.
"A new fleet, and the associated works, is essential for providing services that people and business can rely on, as well as being a stimulus for further economic growth.
"As part of the process we'll be interested in how the bidders may be able to tap into the local labour market and make the most of UK-based opportunities."
The tender documents are due to be released on 22 January with bids due back by the end of April. Merseytravel expects to identify a preferred bidder by the end of the year, when city region leaders, through the Combined Authority, will be asked to commit themselves to the project.
Merseytravel said its plans have been developed to ensure that there will be no additional costs to local taxpayers, with costs recovered over the life of the new trains by leasing them to the commercial operator responsible for the Merseyrail network – currently Merseyrail Electrics. Merseytravel added that its initial investment will use 'a variety of funding mechanisms', including a rail reserve already established for the purpose.
Reader Comments:
Views expressed in submitted comments are that of the author, and not necessarily shared by Railnews.
The existing 507/508 fleets have provided excellent value to Merseyrail so high expectations should be expected from the bidders for the new fleet to give the people of Merseyside a quality mass transit experience for the next 30 to 40 years.

I note that not only are Merseytravel expecting the the bidders to provide a fleet and maintenance package but also to deliver significant infrastructure improvements. While much of this, such as power upgrades, will remain unseen by the travelling public station upgrades will be. Over the years Merseytravel in partnership with Mereseyrail has quietly invested considerably in improvements to stations throughout it's network** enhancing the overall customer experience. With the introduction of new trains and a commitment to step free access hopefully station modernisation can be accelerated.

The concession model adopted for Merseyrail and similarly by TfL for the Overground network has seen consistent improvement and investment in the respective networks to the ultimate benefit of the traveling public.

By specifying a duel voltage fleet for Merseyrail it is being future proofed for future expansion of the network. The stopping service over the CLC route to Warrington Central should be a prime candidate for inclusion should electrification eventually be authorised. As Liverpool abounds with abandoned tunnels the regions transport planners are spoilt for choice in looking for new service opportunities from the network.
[**I quite agree. The modernised stations on the underground sections in central Liverpool in particular are a credit to all concerned.--Editor.]

The present trains used on Merseyrail are of the PEP stock family developed in the 1970s and thus based on an older design than Pacers but being electric trains they have a longer life than diesel pacers .

The list of bidders seems bigger than most tenders and includes companies that are not current suppliers of trains to the UK.

The present trains are DC only but I assume the new fleet will be AC/DC to allow extenstion beyond existing network onto newly electrified lines .

I notice Stadler is listed who are often associated with trams so could Tram Trains be at least part of this order allowing expansion to parts of Merseyside (e.g Liverpool) using tram operation similar to trials planned for Tram Train to Rotherham from Sheffield.

Given the number of trains already on order the question arises as to whether we need more train building capacity else this order will need to be build abroad .

Thank you Mr Editor for pointing that out to me. Because it's purely down to Merseyrail, I am sure they will make the correct decision for the good of Liverpool and other areas across Merseyside.
[Nearly. The decision rests with Merseytravel (the PTE). Merseyrail is the contractor operating the services.--Editor.]

Hopefully the DfT will select the most suitable bidder to deliver the fleet of brand-new train carriages. Merseyrail's current fleet - whose average age is not much older to Northern's - is not up to modern 21st century standard, and refurbishment is not the answer. The fare-paying passenger in the north just has as much right as a passenger down south to travel on an up-to-date and modern train.
[The DfT will make no selection. This is a devolved matter for Merseytravel to decide and fund, as our story explains.--Editor.]