Posted 4th January 2016 | 3 Comments
Arriva Trains Wales at a standstill as drivers walk out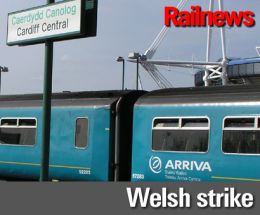 MEMBERS of Aslef are staging a 24-hour strike at Arriva Trains Wales, which means that the only Welsh trains today will be Virgin services to Holyhead and Great Western Railway services between Swansea, Cardiff and Newport, and onwards to Bristol and London.
ATW said emergency bus services cannot be provided, because there are not enough vehicles available to replace the 1,000 or so train services it runs on an average weekday.
The walkout follows protracted negotiations over terms and conditions, but the company and the union are reported to be at odds over the latest state of play.
ATW's human resources director Gareth Thomas said he was 'extremely disappointed' that the latest offer of improvements had been rejected. Aslef. however, said no new offer had been made, accusing ATW of trying to 'railroad through' changes to terms and conditions, even though associated pay increases have been agreed.
Mr Thomas maintained: "We submitted a revised proposal to them on 23 December following productive pre-Christmas talks. Directors at ATW have been in contact almost every day with union officials in a bid to resolve this issue and stress the urgency of the situation if disruption was to be avoided".
However, Aslef national organiser Simon Weller responded: "The company has not made a new offer. It has sent us a form of words, but it is not new and it is not an offer."
The latest offer includes a three-year pay deal (which has been accepted), consisting of a 2.5 per cent increase in the first year and more than six per cent in total over three years.
Other matters, which appear to remain in dispute, include a proposal to reduce the maximum working day to nine hours and 30 minutes from 10 hours 30 minutes, based on a 35-hour week, a feasibility study into how rest break arrangements could be improved, and changes to 'standby' times.
ATW said: "We deeply regret this disruption and continue to do all we can to avert strike action. An indefinite train driver overtime ban is also currently in force which may impact some timetabled services until the dispute is resolved."
One Welsh AM warned that the dispute would cause 'immeasurable chaos'. Andrew Davies, who represents South Wales Central, told the BBC: "With the added blow that no replacement bus services will be offered, commuters face fighting a losing battle getting into work and this is clearly an unacceptable situation."
ATW has also warned of some likely disruption to early morning trains tomorrow.
Reader Comments:
Views expressed in submitted comments are that of the author, and not necessarily shared by Railnews.
It seems there is agreement on how much the drivers are to be paid for their "hard work" .The problem is simply of how the working week is achieved.
Incidentally, the modern drivers don't know what hard work is compared with steam era drivers and firemen.

I, for one, agree with the drivers' decision to strike. Being a train driver can be a rewarding job; however, that can only be the case when they receive the right amount of money for all the hard work they put in.