Posted 3rd January 2016 | 6 Comments
Dover to Folkestone line set to be closed for some time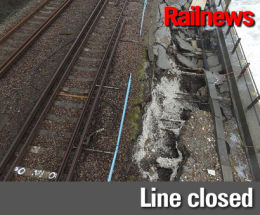 BUSES seem likely to replace trains between Folkestone and Dover for some time into the New Year, after bad weather just before Christmas damaged a seawall near Dover Harbour. Cracks were found on Christmas Eve, and the situation has worsened since.
Network Rail said strong winds and high tides had caused severe damage, and a number of sink holes two or three metres deep along the wall have also been discovered.
High Speed trains will be running between Folkestone Central and London, but Southeastern services between there and Dover Priory will continue to be disrupted, with trains replaced by buses from Monday.
Some Southeastern High Speed trains will be diverted to run between Ashford International and Ramsgate via Canterbury West and passengers travelling between Dover and London will be able to use trains to London Victoria via Canterbury East. In addition, a service will run each day between Dover Priory and Ramsgate calling at Martin Mill, Deal, Walmer and Sandwich.
A spokesman for Southeastern warned: "Network Rail have encountered a great deal of damage and the repair works will take a significant amount of time."
The work will involve not only rebuilding the sea wall but also repairing 250m of track.
Network Rail said: "Our orange army is working round the clock to establish what action needs to be taken, though we know the damage to the sea wall supporting the railway is severe.
"Teams of engineers are on site and we will do everything we can to reopen this stretch of railway as quickly as possible."
Meanwhile, the line between Dunkeld & Birnam and Pitlochry is expected to remain closed for another week after being damaged by floods. Trains are running between Inverness and Aviemore, while replacement buses are being provided between Perth and Inverness. Caledonian Sleeper services are being diverted.
Reader Comments:
Views expressed in submitted comments are that of the author, and not necessarily shared by Railnews.
The victorian engineering solution at the time lasted well over a hundred years, and failed due to lack of any maintenance procedures or costly observational routines. The damage to the wall isn't recent, cynical i maybe, but that this happened all of a sudden on Xmas eve seems like a good time to release bad news.
What is more than apparent is that any engineering work is bad news to the stakeholders, and that its best to blame it on "natural" forces than just lack of maintenance.
Its time UK transport service providers are forced to add value to the infrastructure that they profit from.

I used to live at Walmer - and know this area reasonable well. The White Cliffs of Dover and nearby are white because they crumble and fall all the time, - leaving no chance for green vegetation to get a hold. The seas are horrendous around there in Winter and are very detructive both on the Cliffs and Buildings. When spoil from the Channel Tunnel was dumped nearby in the Sea to create the area known as Samphire Hoe, the Cliffs were no pounded and lost their whiteness. This Hoe may be contributing to altering the sea forces along the whole region, and causing wear in different and unseen places.

More likely the problem lies in how these routes have been maintained or not. The original works by the Victorians have lasted for over a century during which time they will have been battered many times yet only now are they collapsing.
Look at the Forth Railway Bridge. Standing proud while the much more recent road bridge has had to be closed.

Not only these, but also the WCML is facing severe disruption until Febuary as a result of floodwater damage to Lamington Viaduct between Lockerbie and Carstairs with no Virgin services north of Carlisle except some diversions via GSW route and TPE now looking into running or extending Newcastle services to Edinburgh as a result. Fortunately Dawlish has held up so far but more storms are forecast our way to batter the country further.

This story kind of reminds me of when the rail services through Devon had to be halted due to the mainline's sea wall in Dawlish suffering significant damage from heavy waves. Incidents of this nature aren't a rariety - they occur regularly, and nothing can really be done to cut down on the frequency of these happenings. It's baffling why the Victorians even built rail routes so close to the sea, when the power of an ocean can't be controlled.