Posted 14th December 2015 | 7 Comments
New stations and routes mark timetable changes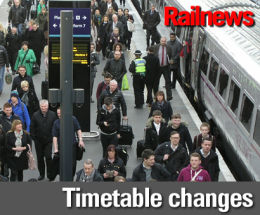 TIMETABLE changes have been affecting weekday services around the country today.
Among the alterations is a doubling of frequency of Thameslink's all-night service on the Bedford route to half-hourly, and new services from Virgin Trains. Southern has increased off-peak headways between London Victoria and Brighton to 30min., but two Gatwick Express services are being extended each hour to Brighton to maintain 4tph on the route.
A new station has opened at Apperley Bridge near Leeds, replacing a previous station which closed in 1965.
Timetable changes are usual in December, and mark the launch of the annual timetable for the coming year. This round of changes is notable for including a new Virgin Trains service which links two provincial centres rather than terminating in London
From today passengers in Hull, Brough, and Selby can join VT trains to Doncaster, where there will be onward connections southward to London King's Cross.
David Horne, managing director of Virgin Trains on its east coast route, said: "Customers and communities have been calling for more services from Hull, Brough, and Selby. We're delighted to be able to deliver this new service on our east coast route, and to connect people with our last train south to the capital."
New Virgin services from Sunderland and Stirling to London have also been launched, and the new services from Sunderland and Hull will pose competition for open-access operators Grand Central and Hull Trains.
Business, civic and community leaders joined Virgin Trains on board both inaugural services this morning, with the new Sunderland service being met at London King's Cross by rail minister Claire Perry, who named a power car 'Spirit of Sunderland'.
The new station at Apperley Bridge, between Leeds and Bradford Forster Square, is part of much wider changes on the Northern Rail network. A ceremonial electric train ran this morning between Liverpool and Warrington to celebrate the addition of refurbished Class 319s to the fleet which will offer an extra 6.7 million seats annually. Other changes will bring the total capacity increase on the network to more than 10 million seats, Northern said.
The operator is also welcoming today's reinstatement of services through Farnworth Tunnel near Bolton, which had been partly closed so that the structure could be upgraded as part of the electrification scheme between Manchester and Preston. One single-track bore has been rebuilt to accommodate double track and overhead equipment.
Northern managing director Alex Hynes said: "These changes have been a long time in the planning and to see them finally come to fruition is very satisfying.
"We listen to our customers' feedback and we know that some of our services have historically been very busy; to be able to bring such a large, permanent improvement in capacity is very good news."
A spokesman for First TransPennine Express said: "The opening of the new tunnel is fantastic news for our customers and staff. We understand how difficult it has been for everyone involved during these works and we're very grateful for our customers' patience during service alterations. These works have been essential and it's great to see the tunnel open once again."
In the south of England a Kentish town has gained a new station which opened its doors this morning. The £26 million station at Rochester is on a new site closer to the town centre.
Southeastern managing director David Statham said: "It is great news that the new station has opened in Rochester. I believe this highlights and shows our commitment to the area, a major part of our commuting network.
"The new station is much brighter and is now much closer to the historic heart of Rochester, which is good for commuters, local businesses on and around the High Street and the hundreds of thousands of people that visit each year."
Meanwhile, passengers on a cross-country East Midlands Trains route will have no need to go hungry from today, because an at-seat catering trolley service has been introduced on 24 trains every weekday. It is the first time a catering service has been offered on this part of the busy Liverpool to Norwich route by EMT.
Reader Comments:
Views expressed in submitted comments are that of the author, and not necessarily shared by Railnews.
I don't understand why Virgin's direct service to our nation's capital is not a good thing for the city of Sunderland. It takes the better route via Newcastle – plus it arrives into King's Cross a good hour before the first Grand Central train. I personally think the people who use this service will find that useful, particularly the business commuters.

"From today passengers in Hull, Brough, and Selby can join VT trains to Doncaster"

Meh. All they've done there is run the single afternoon service from LKX to Hull back to Doncaster once it's reached Hull. Unless you happen to be travelling at that particular time of day, you're still better off using one of the many Northern services to Doncaster, or more likely one of the Hull Trains if you're going to London.

Sunderland's really only of interest if you're travelling ridiculously early or ridiculously late, otherwise you're better off with Grand Central. It's only really Stirling that's getting an improvement that's not massive duplicated by existing services.

The May timetable change next year will be interesting though, because that's when London-Edinburgh services increase to 2tph.

The news regarding Farnworth Tunnel is a little misleading. True a single track bore has been enlarged to double track but there was a second single track bore tunnel alongside the widened structure. I can't see how a single double track tunnel provides more capacity over two single track ones. As for more seats, where are they?

The train service has simply reverted back to what it was before transpennine re-routed via Wigan instead of Bolton and the Farnworth Tunnel works started. My train started off as a two car sprinter/pacer, then was lengthened to four cars during the tunnel works and has now been reduced back to two cars again. In fact several other trains have similarly been increased then decreased in length.

As for 'new' electric stock in the shape of class 319's. These vehicles as i understand, are being facelifted, not refurbished. The South Manchester Electric services are to loose the newer three car class 323's (17 of them) to the London Midland franchise for Birmingham suburban services and we are getting replacement four car 319's, will only result in an increase of 17 cars at best.

The only new seats we have seen at the moment are some pink settees plonked on the platforms at Bolton station, presumably to make waiting for your delayed train more comfortable.

As for electrification it is reported in local papers that the Manchester to Preston section is expected to be energised by late 2016, but that is pointless unless the Preston to Blackpool service is similarly energised as commuter trains tend to terminate at Blackpool rather than Preston.

Finally, despite promises of electrification we are told Pacers will also be screeching and lurching around until 2019 (and quite possibly later still!).

"From today passengers in Hull, Brough, and Selby can join VT trains to Doncaster, where there will be onward connections southward to London King's Cross" - not in the new NR timetable unfortunately. Or in Virgin's timetables. Where is this duff information coming from?
[From Virgin Trains, which is referring to its new 20.28 service ex Hull to Doncaster, from yesterday (14 December). I agree it's not exactly a lavish timetable. It is showing correctly on National Rail Enquiries.--Editor.]


Just a note about the EMT catering, it says ts the first time catering service has been offered. I beg to differ as when i worked for EMT we had catering on Liverpool Norwich services and the trolleys changed at Nottingham and Peterborough. and this was 3 years ago
[The claim about 'first time' came from EMT.-Editor.]

Credit to Virgin Trains East Coast for connecting two more places to the UK capital. Hopefully further additions will be made in years to come, because having direct trains can only be viewed as a good thing for the daily commuter. Not all passengers like to change services, unless it's absolutely necessary.