Posted 8th December 2015 | 3 Comments
West Coast Main Line reopens after Carlisle flood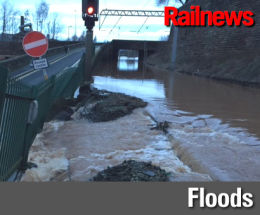 THE West Coast Main Line has reopened between England and Scotland two days after a stretch just north of Carlisle station was under more than two metres of floodwater.
The first train through the reopened section was the up 10.51 Virgin Trains service from Edinburgh to London Euston which passed through the area just after 13.00.
Network Rail said the blockage which had prevented trains running north of Carlisle was at Caldew Junction, where the line crosses the River Eden.

Lineside equipment is still damaged and so emergency working is in operation, with points clipped and just four trains able to run in each direction every hour. There are also speed restrictions at various places.

A Network Rail spokesman said it was expected that one Virgin, one freight and two Transpennine Express services would be possible, while work continues on cleaning and repairs to the equipment which had been submerged in the floodwater.

Debbie Francis of Network Rail said: "The orange army has worked tirelessly to reopen the West Coast main line for passengers as quickly as possible. Floodwater caused widespread damage but work has taken place round-the-clock to make repairs and clear the debris.

"Before trains are able to run normally large amounts of signalling equipment, including safety-critical electrical cabinets, need to be replaced. Work will continue over the coming days.

"Network Rail's engineers have worked tirelessly to reopen the railway so soon after the floods. However I would urge anyone planning to use trains in the coming days to check before they travel with National Rail Enquiries or their train operator."
The Cumbrian Coast Line remains closed between Workington and Carlisle, while work continues to remove three landslides and repair two flood sites along the route. Network Rail said it hopes to reopen the line later in the week.
Reader Comments:
Views expressed in submitted comments are that of the author, and not necessarily shared by Railnews.
All credit to Network Rail and their engineering teams for getting the routes re-opened. I'm sure many of the staff involved have also suffered personal loss due to the floods and full marks for their dedication the railway operational.

While NR have a lot to do in understanding the affect these weather patterns are having on the infrastructure their is a wider question on how neighboring land owners are managing their property as in many cases the railway is just becoming a conduit for others neglect.

Network Rail have done a tremendous getting this vital route back up and running quickly. Full credit to the engineers!