Posted 7th December 2015 | 3 Comments
Flood damage will keep West Coast closed for days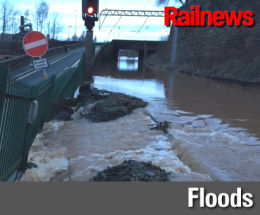 ONE of the main rail routes between London and Scotland is likely to stay closed for some days at least, after unprecedented rainfall in Cumbria over the weekend.
Network Rail has closed the West Coast Main Line north of Preston, because the railway has disappeared under flood water which is more than two metres deep in places.
Train services on other routes in the area have also been suspended. Apart from the main line between Preston, Carlisle and Glasgow, there are no trains running between Carlisle and Skipton or Hexham, or via Dumfries. Passengers are being advised not to attempt to travel, because the floods have also affected many roads and replacement buses cannot be provided.
Caledonian Sleeper services are being diverted via the East Coast Main Line, and sleepers which normally start at Aberdeen and Inverness will start from Edinburgh instead.
Other lines may have no services until later today (Monday) at least. Transpennine Express said it was hoping to restore trains between Oxenholme and Windermere and also to Lancaster and Barrow, but this would depend on Network Rail confirming that the lines were safe. Lancaster station is blacked out by the failure of a electrical substation in the town, but National Rail said Lancaster would be served by trains today during daylight hours.
In Wales, no trains are running between North Llanrwst and Blaenau Ffestiniog because of strong winds and rain, which have blocked the line with fallen trees.
Although the floodwaters should now start to recede, Network Rail has warned that there could be considerable damage to the infrastructure. There was at least one landslip reported, and the deep water has also submerged signalling equipment. Network Rail has used a helicopter to inspect the railway north of Carlisle as it continues to assess the damage. Repairs have already started where this is possible, with chainsaws and other equipment being used to remove fallen trees.
Route managing director Martin Frobisher said: "The unprecedented amount of rainfall and high winds have taken a significant toll on the railway and we are working round the clock to keep as much of the network open and repair the damage that has been caused.
"North of Carlisle station we have to wait for water to recede before we can carry out extensive safety checks and repairs – including rebuilding a host of complex electrical and signalling equipment which is currently underwater. This, coupled with dozens of other sites which have been flooded or damaged, means we have a lot of work to do to ensure the railway is safe and able to be used.
"We care about passengers and will do everything we can to reopen the West Coast main line as quickly as possible. I thank passengers for their patience during this difficult time and can assure them we are working with the train operators to provide the best possible information. I urge anyone planning to travel in the north west in the coming days to check for the latest information before they set off."
More wet weather is forecast in Cumbria, particularly on Wednesday.
Reader Comments:
Views expressed in submitted comments are that of the author, and not necessarily shared by Railnews.
This means there will be additional strain on the East Coast Main Line services, as people who still wish to travel to Scotland will use this stretch of railway as their diversionary route to complete their journeys. Let's hope Virgin Trains East Coast and Cross Country will be able to cope with the extra demand.

Lets presume that Global Warming is now proven. This for us in the UK seems to mean milder Winters but more rain. The hotter the temperature the more water the air can hold and therefore the more water evaporates from the seas. The Country has has several winters now that had bad floods and many lines have been closed and affected. It would seem prudent - nay essentail - that all lines near rivers and liable to flooding are inspected and re-inforced where necessary. Anecdotally a local old Railwayman has said that Network Rail does not know where many culverts are that take water away from and under the tracks. In the 'Good Old Days' - (pre-Beeching) - that information, he sai, was carried in the heads of the 'linesman' who patrolled and kept his stretch of track safe and streams unblocked.

Wonder if this will strengthen the case for extending HS2 to Scotland (or at least bits to bypass the most flood-prone sections)?