Posted 5th October 2015 | 4 Comments
Rail campaigners welcome news of National Infrastructure Commission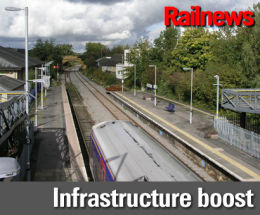 NEWS that Chancellor George Osborne plans to set up a National Infrastructure Commission under the chairmanship of former Labour Transport Secretary Lord Andrew Adonis has been quickly welcomed by the group campaigning for the restoration of the railway between Stratford-upon-Avon and Honeybourne, on the North Cotswold route.
The South Warwickshire Rail Line Campaign Group is calling for the line from Stratford, closed in 1976, to be reinstated for almost 10km to Long Marston, where a large housing development is taking place and where a long siding from Honeybourne still exists.
Reopening of the route as an alternative means of reaching Stratford-upon-Avon has been strongly supported by Great Western Railway – and Prime Minister David Cameron, whose constituency includes part of the North Cotswold line, has also shown interest.
Fraser Pithie, a leading campaigner and a former Warwickshire county councillor, said today: "We are pleased there is to be a National Infrastructure Commission that will look at things such as rail transport schemes much more holistically.
"An NIC could overcome one of the biggest hurdles that has existed for decades. For mainly no other reason the route from Stratford to Honeybourne straddles two government regional boundaries (West Midlands and South West) two Network Rail regions (Chiltern/West Midlands and Western), three County Councils, three District Councils and two Local Enterprise Partnerships.
"To date, despite various mechanisms that should have enabled sponsorship of such a scheme, not one of the various authorities has ever taken ownership. So dereliction has been allowed to take the place of promotion.
"A NIC represents a real prospect of a more positive approach that supports commerce, local businesses, especially in the town centre, connectivity and a better amenity for local communities."
Mr Pithie said Stratford-upon-Avon suffered from a poor rail service, and that from Sunday 25 October "a further significant reduction in London services by Chiltern Railways would take place so they can concentrate on more lucrative revenues from their new Oxford-Bicester-Marylebone service".
He pointed out that Stratford only attracts six per cent of visitors to the town to travel by rail, while the national average for visitors by rail to similar rail-connected tourist destinations is over double that, at 13 per cent.
Lord Adonis – who when transport secretary started the planning for HS2 and also gave the go-ahead for rail electrification schemes in the North West of England and along the Great Western routes to Bristol and South Wales – has said he will resign the Labour Whip and sit as a Cross Bench member of the House of Lords in order to chair the new National Infrastructure Commission, an organisation that Labour had pledged to introduce had it won the last general election.
Reader Comments:
Views expressed in submitted comments are that of the author, and not necessarily shared by Railnews.
Agreed that Stratford upon Avon is an important reopening but what about more important re openings ! Matlock to Buxton is one ,Tweedbank to Carlisle and others .Stratford would probably have a higher percent of tourists arriving by rail if in had better services from the south west !

When compared to other countries in Europe it is often asked why they can plan and build new lines faster than we can.

One reason is they often already have Infrastructure legislation in place that sets out procedures to be followed in new railways or roads are to be built and thus they can avoid some of the pitfalls HS2 has met.

Simply think of the millions spent on court cases against HS2 most of which had no chance of success but were still taken often by local authorities spending council taxpayers money.

The benefit of an Infrastructure body will only come if clear legislation is introduced which sets out the rules when new infrastructure projects arise something that needs to benefit both those in favour and opposed to schemes in laying out rules to be followed.

As for comments on lines in England that is more to do with the fact that Scotland and Wales have governments who can put forward schemes but England has no one voice and it's why more Regional Governent is needed..

An interesting point is that hasn't Stratford-on-Avon got a station, that has recently been updated!

[Stratford only has train services from the Birmingham direction, having been effectively converted into a terminus when the last few Stratford-Honeybourne services were withdrawn in May 1969.--Editor.]