Posted 2nd October 2015 | 2 Comments
Passenger growth continues – and North/South gap widens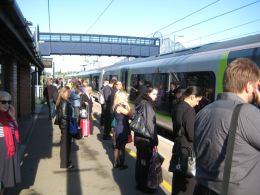 THE number of passengers travelling by train has continued to rise – but growth in London and the South East has been two-and-a-half times greater than in the rest of the country.
This North/South divide has been revealed by the office of Rail and Road (ORR) at the same time as news that the price of a typical home in London is now three-and-a-half times higher than in parts of Northern England, while a downturn in the manufacturing sector – largely associated with the Midlands and North – has resulted in job losses for the first time in more than two years, according to the financial-data firm Markit and the Chartered Institute for Procurement & Supply.
These data have all been published as Chancellor George Osborne prepares to outline more of his plans, at next week's Conservative Party's conference in Manchester, for the Northern Powerhouse, in which plans for HS2 and a possible HS3 play a significant part.
ORR's figures for passenger journeys in April-June – the first quarter (Q1) of fiscal year 2015-16 – show that journeys in London and the South East increased by 5.7 per cent to 289.1 million.
By comparison, journeys on regional services elsewhere increased by 2.4 per cent, to 89.4 million, compared to Q1 last year, while long-distance trips went up by 2.2 per cent to 33.5 million.
Overall, total passenger numbers on franchised train services amounted to 411.9 million – 4.7 per cent up on the previous year's Q1 – but the London and South East sector alone accounted for 70 per cent of all these.
Journeys on non-franchised 'open access' services jumped by 15.2 per cent to 0.6 million.
Total passenger kilometres travelled went up by 3.3 per cent.
Overall revenue, at £2.3 billion, increased by 6.6 per cent following this year's increase in regulated fares of just one per cent. ORR said this was the highest revenue generated within any Q1 since it began collecting the data in 2002-03.
Reader Comments:
Views expressed in submitted comments are that of the author, and not necessarily shared by Railnews.
Given that in London at least the population is expected to raise to 10 million by 2030 then there needs to be rolling stock strategy which outlines how over the next 10-15 years at least the industry is going to keep Britain moving and clearly some operators over the country need new fleets of trains to cope with demand and of course whilst Crossrail is concentric to London other project such as the east-west link will provide better cross country links across the country. Taking into account the recent unpausing of electrification on the MML and transpennine route and in line with when these franchises are renewed then planning ahead with appropriate rolling stock which is more than 3 coaches on the transpennine route at least will be help meet supply and rise in the population. Ideally most of the current sprinter fleet would be replaced along with all Pacers as is what will happen under the new franchisee for Northern however some consistency in train fleets across the country would also assist in keeping up with supply for services when the railways have seen the biggest growth in passenger numbers since the last century.