Posted 20th September 2015 | 6 Comments
Birmingham New Street opens its doors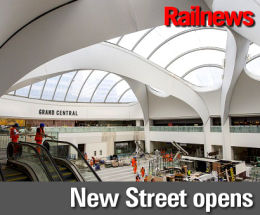 THE redeveloped station at Birmingham New Street has opened to passengers, after a five year reconstruction programme.
The 1967 station, the second on the site, has been swept away at surface level and the structure is topped by a new shopping centre which will open later this week, but the essential problem at New Street -- providing enough capacity on the platforms to cope with ever-increasing demand -- has not been solved.
The platforms lie in a cutting which cannot be widened, but it is hoped that control of passenger flows will at least alleviate the problem. In future, it is intended that passengers will remain longer on the main concourse, which is five times the size of the circulating area at London Euston, rather than waiting for any length of time at platform level.
In spite of the limitations, the rebuilt New Street has been planned as far as possible to cope with increased passenger numbers in the years ahead. The old British Rail station built in the 1960s was designed to cope with 60,000 passengers a day but that number has now more than doubled to 170,000, Network Rail said, while annual usage of New Street has risen from 14 million passengers at the turn of the century to around 35 million now.
The new station has 43 shops at concourse level and above it is the new Grand Central shopping complex, which includes one of the largest John Lewis stores in the country. The Grand Central shops will open their doors to customers on Thursday.
Chancellor George Osborne said: "This £750 million investment to modernise Birmingham New Street station is at the heart of our plans to use the power of infrastructure to build a more healthy, balanced and productive economy right across the Midlands.
"We are committed to build the Midlands engine, set to boost growth by attracting local jobs and investment and the new station shows we are delivering on our long-term economic plan for the region."
Transport secretary Patrick McLoughlin said: "The improvements made at this important transport hub have made it into a truly impressive building that passengers and the people of Birmingham can use and enjoy."
Sir Albert Bore, leader of Birmingham City Council, added: "Birmingham New Street station has undergone a magnificent transformation to become a vibrant, spacious and bright transport hub suitable for our city, and for the people of Birmingham to be proud of. The station redevelopment has been a key project for the city, stimulating economic growth and regeneration and, with the added creation of Grand Central; it has provided one of the best-connected retail spaces in the country. This is sure to have a catalytic effect on further regeneration of the city centre and attracting businesses to Birmingham.
"The development has also provided a gateway to opportunities for many Birmingham people, with over 3,000 construction jobs created, including over 115 apprenticeships. In Birmingham New Street and Grand Central we now have a bright, modern 21st century focal point for the city that will deliver integrated transport with premier retail that the citizens of Birmingham can be proud of. This is an exciting time and shows that Birmingham has a lot to look forward to."
After the Grand Central complex opens on Thursday, the next milestone at New Street will be the arrival of Midland Metro later this year, when the tramway extension from Snow Hill through the city centre has been completed.
Reader Comments:
Views expressed in submitted comments are that of the author, and not necessarily shared by Railnews.
"Dingy" isn't quite the word I'd have used to describe the platforms. Arriving at the new New Street with a friend to do a "bash" on the newly electrified lines, followed by Walsall trolleybuses (that dates us!), he took one look at the endless expanse of white tiles & remarked that it reminded him of an enormous gents' convenience. I agreed, & 48 years on I still think he was spot on.

New Street is by far the better name for the station - it tells everyone where it is. Grand Central would be a nonsense name with no geographical meaning.

As for Manchester London Road being renamed Piccadilly, that too was a nonsense, the station is not in Piccadilly and never has been. It is in London Road.

From experience, I concur with the criticism of limited platform space at this station - a potential safety hazard, for one thing.

It would be useful if more cross country journeys could avoid changes at New Street / Grand Central. Living in Milton Keynes, I would appreciate one or two through trains from here to Yorkshire / Northeast England. for example ( probably via Trent Valley and Stockport - Stalybridge ).

When phase one works were put into use there was a feeling of " yeh but" looked a bit better but a lot still to be desired.
Now one has to say, WOW. Amazing.
Yes no extra platforms but we all new that. But I reckon general passenger movement will ease matters. Maybe longer trains would help.
Even the dingy platforms have been opened out and de cluttered giving a much more open feel.
Completed just in time for me to appreciate as I retire at Christmas and my times in New Street will be greatly reduced.
One final thought, rename it after the shopping centre, Grand Central. Manchester London Rd was renamed years ago. Now it's time to get rid of that non-description name of New St.

Well it looks very good. I have fond memories of the old Concrete Structure having used it all my Life from when I went to Birmingham University in 1967 to study Mechanical Engineering to commuting there for years up the 'Hill' from Stourbridge Junction. I treated myself to a visit a few years ago to ride the entire length of the Midland Metro, so it sounds like I'm going to have to do another visit soon. Thank Goodness its not all bad news about the Rail Industry, - and the Borders re-opening, Reading rebuild and this have been sucessfully implemented projects.