Posted 3rd September 2015 | No Comments
Scottish boost for High Speed Rail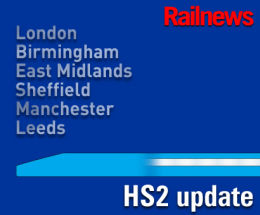 THE Scottish infrastructure secretary Keith Brown has announced a deadline for delivery of an HS2 final report.
The study, commissioned by Transport Scotland and the Department for Transport, will supply details on potential route options to Scotland and will report at the end of this year.
When he has full details of potential routes, Transport Scotland said "Mr Brown will be in a position to make an announcement in February on the next steps in the realisation of his objective of ensuring Scotland's inclusion within a high speed rail network".
The study was launched after the publication of Fast Track Scotland, a report by civic Scotland which found that high speed rail would benefit Scotland by some £25 billion.
Speaking ahead of his address to the Greengauge 21 high speed rail conference in Glasgow, Mr Brown said: "The Scottish Government has long made the case, with support and strong advocacy from Scotland's civic and business communities, that we must be fully included in any plans for high speed rail.
"Effective transport connections are vital in ensuring we allow business to compete and grow, and high speed rail for Scotland represents a significant advancement in our world-class public transport networks.
"This long-awaited and important study will furnish us with feasible route options and is a welcome development, putting our campaign to bring high speed rail to Scotland back on the fast track."