Posted 3rd September 2015 | 1 Comment
Engineering restrictions may be eased by new Network Rail units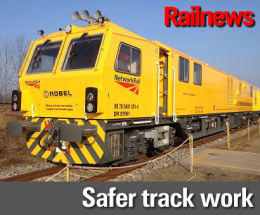 NEW track maintenance vehicles are being introduced by Network Rail which may mean that tracks running parallel to lines occupied for engineering work may be able to stay open for traffic.
Such a change could reduce the amount of disruption to train services which engineering works cause.
The first of the new 'moving maintenance trains', due in service this week, will make work on the track 'quicker, safer and more efficient as well as less disruptive for passengers and freight', Network Rail said.
Eventually there will be eight of the new machines, which will be based at various civil engineering depots around the country.
Each train will have a workshop, two built-in 2-tonne cranes to move heavy equipment, multiple power points and a welfare area with kitchen and toilet. But their key feature is the large, extendable work area that allows access to the track below, provides cover, floodlighting and protection from passing trains, which may mean that restrictions affecting the use of adjoining tracks may not be needed.
Neal Lawson, Network Rail's maintenance director, said: "Many tasks on the railway can only be carried out when the railway is closed to traffic – but with passenger numbers growing and demand for freight increasing at record levels, the need to keep the railway open round-the-clock is greater than ever before.
"These new trains mean our frontline staff can complete a wide range of maintenance and repairs more quickly and efficiently, reducing the need for costly and disruptive closures of the tracks. They'll also keep our people safe, warm and dry and better able to focus on getting the job done."
Teams will be able to board an MMT at a depot and be taken directly to the work site. In the safety of the unit they can make repairs on a section of track or, using a slow 'creep' mode, are able to make rolling repairs. The work unit also has adjustable side walls so the workspace can be increased where possible.
Corey White, an MMT supervisor based in Darlington, will be among the first to benefit from the new trains. "I'm lucky that I enjoy the job I do, but it can involve working in really tough conditions, a long way from shelter and simple comforts like a hot drink or a proper loo," he said..
"These new trains will make a massive difference to my team. We can get on the train at the depot with all the kit we need for a job and head straight to site. My favourite feature is the all-round lighting, which means we get pretty much perfect working conditions whatever the weather or time of day."
The MMTs have been manufactured by Robel in Germany and will be delivered to Network Rail over the next 12 months. The first one to arrive will be based in Darlington, with the second (based at Paddock Wood in Kent) arriving in October and the third (based at Derby) in December. The remaining five will be stationed at Woking, Retford, Romford, Peterborough and Horsham.
The fleet will be operated and maintained by Colas Rail under a three-year contract.
Reader Comments:
Views expressed in submitted comments are that of the author, and not necessarily shared by Railnews.