Posted 1st September 2015 | 9 Comments
RMT warns of more Great Western industrial action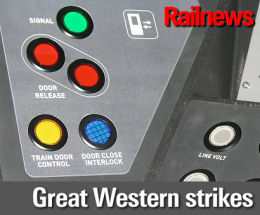 THE RMT union has warned that more strikes are likely on First Great Western unless the currently deadlocked dispute over the next generation of intercity trains on FGW can be resolved.
The union claims 'solid support' for its Bank Holiday weekend stoppages, which disrupted FGW services and closed some routes entirely.
The dispute concerns the Hitachi-built Intercity Express trains which are to replace the present diesel Intercity 125 sets between London, Bristol and Swansea by 2018.
FGW wants the driver to control the doors, saying that drivers will have the best view thanks to CCTV in the cabs, but the RMT is calling for the doors to be operated, as now, by the Train Manager. The union is also opposed to catering changes on board which would mean no separate buffet counters.
First Great Western said its plans would create rather than reduce jobs, and neither side are showing signs of changing their stance.
The Hitachi Intercity Express plant in Newton Aycliffe is to be formally opened on Thursday, where fleets for the Great Western and East Coast Main Lines will be assembled. The plant will also supply new fleets in the related Hitachi AT series for lines in Scotland and the far south west of England.
Reader Comments:
Views expressed in submitted comments are that of the author, and not necessarily shared by Railnews.
When travelling recently in Switzerland it was noticeable that the new trains on the BLS have driver operated doors... Indeed better than that when approaching a station the passenger can pass the door button, which then flashes red, and the door open as soon as the train has stopped with no extra pressing while trying to hold luggage.

On arrival at Taunton on a busy Saturday several weeks ago it took nearly 45 seconds for the door locks to be realised ... That is more than half the booked dwell time, or are FGW now operating a "Door may be kept locked up to 40 seconds after arrival."

I'd disagree that CCTV is safer than having a guard operate the doors. For a ten car train (with 2 sets of doors on each car) that would mean monitoring 20 different images. As a driver that does DOO-P on FGW on Thames Valley services, I don't see how this can be safer than a guard looking down the whole length of a train, before closing the doors. I also can't see any time savings, unsafe dispatch can lead to manslaughter convictions, to mitigate this I spend at least 3 seconds looking at each door before dispatching, I estimate a door close to departure delay of at least 1 minute, compared to ten seconds, if the guard can look along the whole length of the train. Also once the train starts moving the CCTV cameras will go off, so if someone is trapped in the doors and the driver hasn't seen, this could easily have fatal consequences.

There is no agreement with my union ASLEF to extend DOO-P, and nor shall there be. FGW's plans are unsafe and must be stopped. The same trains will have guards on East Cast and they should also on the Great Western. I give my full solidarity to my striking RMT colleagues.

Hopefully soon all these luddites in the RMT will die off and be replaced by more evolved sentient beings. In the meantime, transportation is a public service. Strikes should be banned (especially those about things that haven't yet occurred) and be replaced with binding arbitration.

The driver can deal with the doors more quickly and in our overcrowded railway a few seconds at each stop DOES make a difference. Also, considering the CCTV available to the driver in these new trains, isn't it SAFER to have them deal with the doors? Why doesn't the RSSB etc. therefore pass regulations demanding this when available? They can fit placebo buttons in the guards "office" for them to press if they feel left out.



Maybe we need a change of management / franchisee who handle staff disputes better. Remember the current incumbent has the nick name 'Worst Late Western'!

This is the most ridiculous strike I have known. FGW has given assurances about job creation rather than redundancies: what more do the unions want? Driver operation of doors is much more efficient and will lead to better punctuality - everyone wins. Mind you, it is the DfT that specified the trains in the first place and has conveniently dropped FGW in it to sort out the mess.

Striking over something that isn't even planned to occur for 2 to 3 years yet should be illegal. It's certainly childish, and Mick Cash & the RMT should start acting like adults instead of spoiled 7 year old little brats who can't have their way. What a bunch of neanderthals.

As a passenger, I actually prefer the trolley service as the buffet is quite a long way from the quiet seating on HST's. But as usual, our dinosaur unions don't want progress. Sometimes I wonder whether we would still be sitting in open trucks behind the Rocket if we had the RMT back in the 1830's.....

I had a 'nice' chat to an RMT member at Reading last week. I started politely and asked what all the Reading festival go-ers were going to do to get home after the Festival if he went on strike. His reply was 'Get their rich mummies and daddies to pick them up by Taxi'. Nice to know that the old British Railway attitudes still exist and haven't died out with the Dinosaurs. Luckily the week before I met a middle aged Woman Train Dispatcher at Waterloo. We (including someone in a Wheelchair) had been sold the wrong tickets and apparently they were not valid on a particular train. However she was politeness itself. She said it was obvious that it was not our fault, and she promptly gave us a note, stamped and signed, saying we could use the Train and to show the letter to any Ticket check that may occur. I have written to SWT and thanked them for employing such a courteous Lady. So what have I learnt from this ? That we need more women on the Railways because they do seem to know how to treat Customers.