Posted 19th August 2015 | 1 Comment
Rail crime falls, but more sexual offences are recorded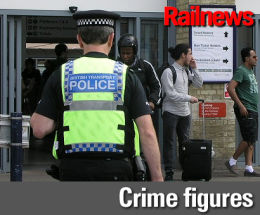 BRITISH Transport Police has reported that the general level of offences reported on the rail network has fallen, but that the proportion of sex-related incidents has risen by 25 per cent.
BTP recorded 1,399 sexual offences in 2014-15 in England, Scotland and Wales, which was an increase of 282 compared with the previous year. Recorded violent crimes also increased by 8 per cent to 9,149, but the total of all reported offences fell for the 11th year in succession.
The force's deputy chief constable said he was 'delighted' that the total of recorded offences was continuing to drop, but also agreed that a rise in violent crime was a 'concern'.
The sharp rise in reports of sex-related incidents is probably due to a campaign launched two years ago which was intended to encourage such reports, the force said.
The campaign, Project Guardian, was followed by another with the tag line 'Report It to Stop It' which was launched on the London Underground in April this year.
Deptuy Chief Constable Adrian Hanstock expressed concern about the rise in violent incidents, but said: "It is worth noting that the chances of being a victim of any crime are small. The use of more officers patrolling late-night trains and at peak periods, as well as our extensive CCTV network, is helping to halt this rise.
"While it is encouraging to compare our current level of performance to last year and note these improvements, the outcome is even more remarkable when you reflect on the progress made over the last 11 years.
"In that time, vehicle and cycle crime has been driven down by 39 per cent, meaning 4,600 fewer offences, while 19,000 fewer people have been the victim of the theft of property, with crimes of this type down 61 per cent."
BTP is now also concentrating more on incidents of trespass and vandalism having missed last year's target, which was to reduce disruption related to such incidents by 6 per cent.
2014-15 compared with 2013-14
Total recorded crime DOWN 8.16 per cent from 50,839 incidents to 46,688
Sexual offences UP 25 per cent from 1,117 to 1,399
Criminal damage UP 1.9 per cent from 3,298 to 3,361
Fraud DOWN 18 per cent from 457 to 374
Robberies DOWN 17 per cent from 436 to 358
Theft of passenger property (such as laptops and smartphones) DOWN 16 per cent from 14,353 to 12,039
DCC Hanstock commented: "I am delighted to be able to say that crime on Britain's railways has fallen for the 11th year in a row; a remarkable achievement which reflects the excellent work, day-in day-out, of the officers and staff of British Transport Police.
"We pride ourselves on our specialist knowledge and experience of the railway environment, as well as our close relationships with rail companies and local forces, which puts us in a unique position to meet passengers' needs and keep people safe.
"BTP is always looking to pioneer new and inventive ways of confronting crime – whether that's through the use of evidence-based policing, the work of our specialist mental health team, the introduction of body-worn video for patrol officers, or the growing use of our 61016 text message service."
Reader Comments:
Views expressed in submitted comments are that of the author, and not necessarily shared by Railnews.
The one thing I really hate on trains - just as much as on Planes - is Drunks. I don't know if its a 'crime' or not - but Drunks seem to be unpleasant all round - from approaching Young Ladies with 'suggestions' to being sick in Toilets and elsewhere. Cut the Alcohol and I suspect much of the other crime will disaappear as well.

[Drunken and/or insulting behaviour is covered by the Railway Byelaws -- specifically:
4(1) No person shall enter or remain on the railway where such person is unfit to enter or remain on the railway as a result of being in a state of intoxication.
6(1) No person shall use any threatening, abusive, obscene or offensive language on the railway, and
6(2) No person shall behave in a disorderly, indecent or offensive manner on the railway.
And as the Byelaws do not supplant the general law, the Public Order Act 1986 (s5) also prohibits 'threatening, abusive or insulting words or behaviour, or disorderly behaviour'. The problem, of course, is one of control. Even if you banned all alcohol consumption on trains (as is already the case late at night on ScotRail and all the time on Transport for London services) you could only prevent any intoxication on trains by breathalysing passengers at the gatelines! -- Editor.]