Posted 7th August 2015 | 5 Comments
Green light for open access to Blackpool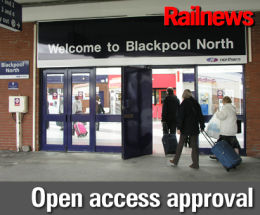 UPDATED 13.00

OPEN access operator Alliance Rail Holdings has been given permission by the ORR to run six trains a day between London and Blackpool.
Alliance is owned by Deutsche Bahn subsidiary Arriva, and said it will run its services on the West Coast Main Line using a new fleet of four 6-car tilting Pendolinos. Due to start in 2018, it will be the first open access passenger service on the route, which is said to be the busiest mixed-traffic railway in Europe.
The application was made by Great North Western Railway, a sister company of existing operator Grand Central -- also owned by Arriva. 120 jobs will be created, Alliance said.
The London terminus may be Queen's Park rather than Euston, which is Alliance's preference. The ORR said Network Rail is not prepared to sell new firm rights now because there are doubts about how much capacity would be available at Euston during HS2 works. The calling pattern includes firm rights to call at Crewe, Preston and Poulton-le-Fylde with contingent rights to call at Milton Keynes Central, Nuneaton, Tamworth, Lichfield Trent Valley and Kirkham & Wesham.
John Larkinson, director of economic regulation at the ORR, said: "The Office of Rail and Road has approved an application from the Great North Western Railway Company for new off-peak train services between Lancashire and London on the West Coast Main Line. ORR recognises the benefits competition between train operators can bring to passengers and welcomes applications for new train services where they meet required criteria and provide real benefits for rail users.
"In this instance the proposed new services will bring significant passenger benefits with extra direct London – Blackpool trains, new journey opportunities including new direct services to and from Poulton-le-Fylde and Kirkham & Wesham, and improved journey times. The regulator will include conditions in GNWR's access contract to secure these benefits. The company's plans submitted to the ORR include additional investment in stations and trains, bringing further benefits to passengers."
Alliance managing director Ian Yeowart said: "We are naturally delighted that the ORR has approved our application to deliver a new direct rail service linking Blackpool and London The introduction of these new services will further grow the market for rail travel. As well as bringing new direct services to a number of locations, notably Blackpool, it will give passengers further choice.
"Experience on the East Coast Main Line with Grand Central has shown how this stimulates the market and helps put pressure on prices, a fact noted by the Competition and Markets Authority in its recent rail review."
The comment from the CMA has come in its document launching a consultation into how passenger rail services can become more competitive.
Several open access applications are presently outstanding on the East Coast Main Line, including two from another Arriva company, GNER, and a separate bid from FirstGroup, which was beaten by Stagecoach and Virgin in the recent contest for the Intercity East Coast franchise.
Reader Comments:
Views expressed in submitted comments are that of the author, and not necessarily shared by Railnews.
I wonder - without using any more WCML paths, Alliance could mu two units together, splitting / recombinibg at Warrington or Newton-le-Willows, with one section for Blackpool and another for Manchester V ictoria and Rochdale , or alternatively for Southport - would this be feasible without further approval by DfT , ORR, etc.?

It would interesting to discover if any slower moving local commuter and/or freight pathways have been sacrificed to provide room for this new long distance inter city service

How have slots been made available now that allegedly didn't exist two/three years ago when a similar bid for a direct service was refused by Network Rail - a decision backed up on appeal to the ORR?

This is great news. Network Rail have already agreed but ORR were stubborn about this, but now that they've agreed hopefully we'll see this service on the WCML in 2018. Alliance have really been through a rollercoaster ride with their open-access application. The WCML will finally have some competition on it, which should drive prices down and service standards up. Open-access is the way forward.

Excellent news. Now can we see urgency in the rebuilding of Blackpool North station and the erection of the Overhead Equipment. Get on with it!!!
Oh and incidentally - please, please get on with laying the tramway extension fropm the Promenade to the North station. It's only half a mile for goodness' sake!!!!