Posted 30th July 2015 | 11 Comments
Go-ahead for new hybrid trains to far south west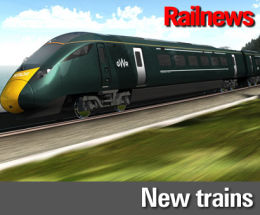 THE Government has given its approval for a new fleet of hybrid trains which are being bought by First Great Western in an unusual privately-funded deal worth £360 million.
The fleet of 29 Hitachi AT300 units will be used on routes to the far south west, beyond the presently-planned limits of Great Western electrification, and will replace the current fleet of HSTs, which are now in their fourth decade and were unlikely to be worth upgrading for service beyond 2020, according to operator First Great Western. The AT300s are being described as similar in design to the Intercity Expresses but will differ in some respects, such as having larger diesel tanks which will be needed when they are working west of Newbury or Bristol.
The trains will offer 24 per cent more seats, and journey times will be slightly shortened, taking up to five minutes off the journey from London to Exeter, six minutes to Plymouth and up to 14 minutes to destinations in west Cornwall.
First Great Western had put forward the plans for the new trains as part of the directly-awarded franchise announced in March, which sees the operator continue to run services between London Paddington, the Cotswolds, South Wales and the south west until April 2019.
Rail minister Claire Perry, who visited Exeter to mark the announcement, said: "These new trains will make a real difference to the millions of commuters, business travellers and tourists who use this route every year.
"This industry initiative goes hand-in-hand with the work this Government is doing to reverse decades of underinvestment in transport infrastructure in regions like the south west. This will not only mean better journeys for customers, it will also help to secure long-term economic growth across the country. Like the new IEP trains serving cities in the North of England, this new fleet will help to open up the region for investment."
First Great Western deputy managing director Andrew Mellors, said: "We warmly welcome the announcement today that our recommendations to introduce a new fleet of trains to serve customers between Devon and Cornwall and London have been approved by the Department for Transport.
"We know how important the railway is to the economies and communities of the south west, and today's agreement is fantastic news for the region and the rail industry as a whole. These trains will help us deliver faster, more frequent services in the south west, and create an additional 1,000 peak-time seats a day for customers on the route."
Councillor Andrew Leadbetter, who chairs the Peninsula Rail Task Force, said: "We are delighted that the new trains will lead to a faster journey time and better connectivity throughout the South West and beyond, as this is a key part of our plans for the South West rail network and is long overdue. It is however important that we keep applying pressure in order to further improve our transport infrastructure. Better connectivity means a better economy and we want to fulfil our potential."
Karen Boswell, managing director for Hitachi Rail Europe, said: "Today's announcement builds on our significant and sustained investment in the British rail sector. This contract with First Great Western recognises the quality of Hitachi's high-speed trains and our world class engineering capability. Hitachi Rail Europe is committed to delivering trains for the UK's fare-paying customers that are genuinely transformative in terms of speed, capacity and comfort. This new fleet will be a revolution in customer experience for those travelling to and from the south west, and we look forward to delivering Hitachi trains for use from 2018 onwards."
Although the fleet is being acquired by Great Western rather than the DfT, it will still be leased.
Mary Kenny, chief executive officer of train leasing company Eversholt Rail Group, which will finance the fleet, said: "We are delighted to be investing in new trains for the passengers of Great Western and look forward to working in partnership with both First Great Western and Hitachi to successfully deliver these trains."
Reader Comments:
Views expressed in submitted comments are that of the author, and not necessarily shared by Railnews.
Karen Boswell says "Hitachi Rail Europe is committed to delivering trains for the UK's fare-paying customers that are genuinely transformative in terms of speed, capacity and comfort."

Let's hope they are at least equal to the standards British Rail provided when the HSTs were new 40 years ago, and First Great Western subsequently destroyed in their so-called refurbishment.

Replacing the IC125 comfortable trains with more DMU bone rattlers will hardly revolutionise the passenger experience. You could at least sleep on an IC125. Sleeping on a Voyager unit is about the same as trying to sleep on a washing machine.
I expect the DfT will now put the nail in the coffin of any possible investment into the actual infrastructure in Devon and Cornwall.
The 6 minute speed increase is pathetic, what's needed is real money to improve the 50mph speed limits south of Exeter.

I wonder how much more expensive they are to build and to run - rather than the propsed all-electric ones. If the percentage is small - eg 3% then it might be a good idea to have the whole fleet dual-supplied. That would mean they are all totally flexible and should the wires ever be down, they could continue running. They could also be introduced into service quicker as the wires may well take much longer to reach Wales and Bristol than is predicted.

Great news(!) what was the point of spending millions on re-engieering the HST fleet seven years ago? FGW are buying off the shelf units with seats that dont match up to windows and being airline size you can forget looking out at the glorious Devon and Cornwall countryside,still have to keep all those overseas rail industrys going mustnt we

Will they have a buffet car, or will a couple of hundred passengers be expected to survive five-hour journeys on the meagre contents of a trolley?

Here's hoping the pantograph and electrical equipment on the roof are adequately protected from salt water along the Dawlish sea wall during stormy weather, or are we going to see services curtailed when it gets a little windy & wet down there, like with the Voyagers ?

A train travelling from Reading to Exeter will have to change from electric to diesel and not the other way round.

Presumably it will never be possible to electrify beyond Exeter because of the vulnerability of the line at Dawlish.
[Not necessarily. A short section of unwired route (perhaps 2-3km?) could be tolerated by using train batteries (see the recent tests with a Class 379 on the Harwich line). Alternatively, although it won't happen for quite a while, considering Network Rail's present problems, there are still broad proposals for an inland route, which could be electrified.--Editor.]

A question for the editor; what is "unusual" about the deal, please?
[Although all the commercial details are not being published, my understanding is that this a procurement driven by First Great Western, with consequent implications for risk. Major new rolling stock is no longer usually acquired in this way, to judge by recent transactions. The IE fleets and the Thameslink Class 700s, for example, were DfT decisions, and the appropriate franchises were offered to the market with that rolling stock as part of the deal. By contrast, FirstGroup evolved this solution for replacing the HSTs, and offered it to the Department. The DfT's press release (on the DfT website) refers to the fleet as being 'privately-funded'. Unusual indeed.--Editor.]

So will a AT300 running non-stop from Reading to Exeter have to stop at Newbury to change from diesel to electric, or will power be switchable whilst at speed ?
[Good question. I would hope the answer is 'at speed' -- Eurostars used to change from third rail to overhead without stopping before the second part of HS1 opened.--Editor.]