Posted 21st July 2015 | 2 Comments
CrossCountry train damaged by empty car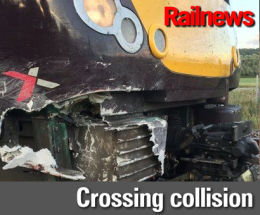 POLICE in the Midlands arrested a man after a CrossCountry train collided with an empty car on a level crossing.
The collision occurred near Burton upon Trent at 19.25 on Monday evening, and police said the driver of the car was found uninjured nearby.

The train continued for 500 metres after the crash at Clay Mills, but remained on the rails. Paramedics checked the three members of the train crew and 39 passengers, but did not report any injuries.

West Midlands Ambulance Service spokesman said: "The car involved had been destroyed by the impact, but fortunately the train hadn't derailed."

A 35-year old man has been arrested on suspicion of obstructing the railway.
Reader Comments:
Views expressed in submitted comments are that of the author, and not necessarily shared by Railnews.
Whilst not commenting on this case, I have managed to stall my Car on a very bumpy half-gate level crossing several years ago. Just as I started to go over the Bells and Lights went off, and I braked and stopped just where the barriers were to come down. So I tried to accelerate hard and quickly - and stalled. For about 10 very panic stricken seconds I tried to restart it and flooded the engine. I was just about to tell my passengers to get out and run (apparently we had 29 seconds from the moment the bells sound at that crossing if it was the fastest train at 100 mph) when it restarted. I have noticed that at Level Crossings virtually all cars slow down and the driver actually looks up and down the tracks to make sure that nothing is coming, - probably a habit you develop at every road junction.