Posted 2nd July 2015 | 2 Comments
ScotRail cuts Sunday timetables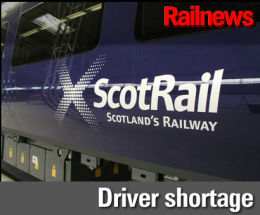 SCOTRAIL is blaming pay negotiations for a lack of drivers volunteering to work on Sundays, which means that services will be reduced from this weekend.
The operator, which has been run by Dutch group Abellio since April, said the shortage would only affect Sunday services 'at this stage'.
ScotRail pointed out that although there will be fewer trains, many of those which do run will be longer, so that total capacity will be 'almost the same'. Some emergency bus services will run on routes which connect with ferry ports.
It said that 'the number of train drivers volunteering for Sunday work has declined steeply in recent days'.
ScotRail is offering a 2.5 per cent pay rise plus a single £500 bonus for ensuring that Sunday services are covered, which it said amounted to 3.7 per cent.
ScotRail has also proposed a solution to the problem of Sunday services by creating up to 100 more jobs for train drivers. This would boost the driver total by almost 10 per cent, and Sunday services would no longer depend partly on volunteers to keep them going.
ScotRail Alliance managing director Phil Verster said: "We have inherited a business that runs a seven day railway with a system of staff rostering that covers only six days. Our customers want the same level of service right throughout the week, so we have to make changes and improve our railway. We cannot expect our train drivers to volunteer for so many Sundays when our rosters should reflect a modern, seven-day railway for Scotland.
"We have made an offer to our train drivers that would see them get more pay, have less weekend working and have a better work/life balance. Our further commitment to employ up to 100 new train drivers will make our Sunday services robust.
"I sincerely hope we can reach an agreement with our train drivers and our unions on this proposal. A 3.7 per cent total pay offer is substantial and our commitment to make Sundays a part of the working week modernises our railway and is a significant work-life balance benefit for our train drivers.
"We do not want to reduce the number of services on a Sunday or any other day. It is not a decision that we take lightly, but we must be able to give our customers certainty about which services will be running and which ones won't.
"We really want to get the situation resolved and we remain open to discussing our proposals and options with our unions."
Reader Comments:
Views expressed in submitted comments are that of the author, and not necessarily shared by Railnews.
So dozens of bus drivers are willing to work on Sundays but train drivers are not. I wonder what the comparative rates of pay are?
[Train drivers are significantly better paid. However, Sunday train timetables tend to be less reduced from weekday levels than bus schedules, so a greater proportion of the rail workforce is probably needed on that day.--Editor.]

It will be interesting to see the unions' response to this. How will they weigh the prospect of lots of new members against a reduction in overtime pay for existing members?

It's high time that the workforce accepted the fact that we need a seven day railway in the 21st century.