Posted 5th May 2015 | 7 Comments
Railfreight 'must match road sector innovation'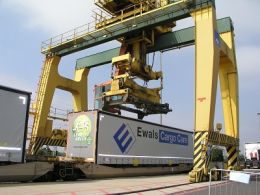 PRESENTATION of a significant award for environmental stewardship has been accompanied by a warning that railfreight needs to match the pace of road transport innovation.
The Co-operative Group's food logistics team collected the Award for Environmental Contribution during the Multimodal Exhibition and Conference at the NEC, Birmingham. The award recognises environmental stewardship resulting from switching flows of products from the roads on to the UK rail network.
Working with its rail provider, W H Malcolm, Co-operative Food has saved 570 tonnes of CO2 emissions by cutting one million road miles. One of the presenters of the award – Falklands War veteran Simon Weston – said Co-op Food had diverted 35,000 tonnes of goods to rail.
But, he added, the company was also warning that future decisions would be more difficult unless the railfreight sector could match the pace of road transport innovation. It was currently falling behind, he warned.
Justin Kirkhope, Co-operative Group's project manager of logistics strategy, had earlier told delegates at the conference: "As the road industry's marginal costs keep coming down, rail needs to keep pace. It's critical, first and foremost, that we're a successful business.
"Customers expect food to be on our shelves in store 24/7. I want to send the same products to our distribution centres (DCs) and to each store, but there's a significant restriction if I can supply from Sunday to Friday and not on a Saturday night.
"Can we divert if there's engineering work on a Saturday?" he asked. "Is there another path available?"
Rail providers need to offer a seven-day solution even if this does not mean seven days actually on the tracks, said Kevin Greenaway, national planning manager for Sainsbury – which recently opened a 93,000 square metres facility at Daventry International Rail Freight Terminal (DIRFT), underlining its commitment to rail.
Mr Greenaway said: "When it works, it's perfect; but it [rail] is a tiny proportion of our movements, as it is for all our competitors." Road transport was flexible and had its own green agenda, he added, including dual fuel and double-deck trailers.
Hauliers could drive from a national DC to a regional DC, and then on stores.
"Trains go from A to B, then back to A again," he said. "Rail does journeys from ports to the Midlands or up to Scotland work very well and are 'greener' than double-deck trailers can ever be, but on many routes it just doesn't make sense."
Chris Welsh, the FTA's director of global and European policy, said to achieve Network Rail's growth targets, rail freight needed to increase by six per cent a year.
Seven-days-a-week availability was essential to intermodal growth and rail operators must respond more quickly – the FTA target is six hours – to service requests, he argued.
Shippers were also calling for longer trains to produce the economies of scale retailers need to convert from road transport, and Mr Welsh welcomed the fact that Network Rail now accepts 775-metre trains as the planning standard for freight upgrade schemes.
Network Rail freight director Paul McMahon said the company supported the concept of the Freight Transport Association's 'Agenda for More Rail Freight'. The UK rail network carried almost 25 billion tonne/kilometres of freight in 2013-14 , he said, with a sharp drop in coal volumes behind last year's 2.8 per cent fall, but intermodal and construction traffic was strongly up.
• The concerns expressed at the Multimodal conference came shortly after the managing director of GB Railfreight John Smith said he felt the lack of rail capacity on some routes could hamper the growth of firms which rely on railfreight.
Writing in SupplyChainID, he said: "To solve the growing crisis, we need to create a long-term plan for the future. We need to be investing in our port, road, rail, inland terminal and network infrastructure."
He also called for a review of the siting of Strategic Rail Freight Interchanges and consideration to be given to breaking up the 'monopolisation' of port rail terminals and inland terminals, so giving open access for the wider railfreight industry.
Reader Comments:
Views expressed in submitted comments are that of the author, and not necessarily shared by Railnews.
Having studied Rail Freight for many years, the only suggestion I can make is for more local Container Depots. The most successful Freightliner Depot was in Dudley, West Midlands, - with it's main cargo being steel and beer products which were made locally. The story of how this very profitable Depot was closed by British Rail in September 1989 to 'help' the uneconomic one at Birmingham is shameful. The traffic carried was nearly all internal to the UK, unlike the current Deep Sea Trade. It was a perfect example of what Dr. Beeching saw as the future of Rail Freight. It might just be possible to resurrect this 'local' depot idea, but apart from that most proposed rail freight traffic really is uneconomic unless its going to Europe by Channel Tunnel - or on board ship, or of course 'Block Trains'.

A consideration here is that although containers-on-rail has been highly succsrfull to and from the main ports, inland ( including via the Channel Tunnel)"merchandise" fteight has mostly stayed with road transport.

Perhaps this latter traffic could be more attracted to rail if "amphibious"bi-modal technologies such as "Roadrailer","Railrunner" ,"Cargobeamer", etc. were developed further, with particular reference to the British loading guages.

As the traditional bulk market for coal declines rail's great freight growth opportunity is intermodal. Rail is currently strong in hauling deep sea containers to/from the ports where the market is established and the rail operators have increased asset productivity by applying block load operations to the market. The ports are natural aggregation points and the inland terminals well established to distribution outlets. In a notoriously low margin market for increased presence in the domestic distribution market rail has to play on these sort of advantages to increase it's market share.

The challenge is to run full length services with quality guaranteed pathing to enable daily loco & wagon diagrams to achieve maximum productivity. While some distribution companies can support their own dedicated services rail needs it's strategic terminal facilities to act as aggregation points for multi user services. As established road distribution networks lack rail connected nodes until this inbalance is addressed rail will always be at a significant disadvantage.

As noted the logistics market continues to innovate. While NR has cleared more routes for larger intermodal units much still has to be done to develop and expand the strategic freight network. For rail to compete 24/7 with road distribution the freight operators have an uphill struggle with NR to show they have the demand for intermodal paths at weekends when engineering access is traditionally undertaken. Reliable pathing and flexibility to offer seven day timetables will boost rail's ability to improve market share.


Rail freight is probably in as great or even greater need to increase in capacity than passenger traffic. Whatever measures needed to increase capacity for railfreight should be taken.

It might be 'Trivia' in some senses, but I am always struck how clean and immaculate looking are the Green Eddie Stobart Lorries and how Graffiti covered are Railway Wagons. Many Business Managers stand on Railway Platforms watching Freight Trains rumble past. Maybe appearance isn't everything but it does count and it often registers in the subconcious. Having and showing 'Pride' is often undervalued.

Since the year 2000, VED for HGVs, which helps to pay for the road network, has been frozen or lowered. Fuel duty for road, but not rail, has also been static for years. HGVs now only pay 40% of the costs they impose.

Meanwhile, rail access charges rise with inflation.

Hardly surprising that rail cannot compete on price!