Posted 28th April 2015 | 4 Comments
Government 'played down' railfreight benefits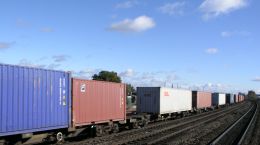 THE Campaign for Better Transport has accused the Government of playing down the benefits of moving freight from roads to railways and canals because of the system of measurement it used.
The CBT said the research only considered national averages on all strategic roads.
But new research from the CBT also looked at those routes which typically tend to be more congested by more long-distance HGV traffic, particularly to ports.
The CBT claimed that HGV traffic could fall by 21 per cent and congestion be reduced by 15-25 per cent if rail and water freight increased by 50 per cent on these routes.
The CBT's Freight on Rail manager Philippa Edmunds said: "While the Government is committed to investing significant funds in the railways and in railfreight in particular, it has underestimated the full extent to which this investment could reduce road congestion.
The Government should take account in its forecasting and modelling, and in its policy and spending, the potential to shift HGV traffic to rail and water and the congestion, safety and pollution benefits of doing so."
Reader Comments:
Views expressed in submitted comments are that of the author, and not necessarily shared by Railnews.
Green Park is happening, as I understand it. Albeit, as you say, after a very long delay. Funding inn place, station design agreed... should coincide with the wires going up between Reading and Basingstoke in 2018.

You're right regarding capacity south of Reading West. They could really do with a passing loop between Reading and Basingstoke as that section is now incredibly busy. West of Basingstoke it's not so critical.

I agree with Tony about capacity. Electrification of the electric spine may help as EMUs will accelerate faster on Reading to Basingstoke for example, as would electrically hauled freight, perhaps creating paths, but until more operators are encouraged to go electric and yards are electrified, I don't think anyone will commit to costs until the benefits are realisable.

There seems little spare Capacity in the Network to run these extra slower freight trains that CBT want. I have for many years observed the route from Didoct to Southampton. Whilst the new flyovers at Reading will help provide more capacity, there seems nothing from Reading West onwards via Basingstoke to Southampton. There have been plans for a new station at Reading Green Park for 20 years next to the M4 but its probably been abandoned because the stopping trains would slow everything else down on the full (over-crowded ?) section of track. The best solution would have been to have the old Didcot, Newbury to Southampton line re-opened but of course Housing, Businesses and Roads occupy much of the Trackbed. And that is probably true for any such railway project in Southern England.