Posted 30th March 2015 | No Comments
Time is running out for objections to railfreight plan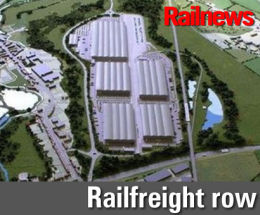 THE COUNTDOWN is on over a controversial plan to build a new railfreight terminal in Hertfordshire.
A proposed scheme on a disused airfield at Radlett, south of St Albans on the Midland Main Line, already has a tangled legal history.
The proposal was first made nine years ago, when the freehold of the land was transferred to Hertfordshire County Council, but with a 21-year covenant attached which limited its use to 'agricultural, open space and recreational purposes'.
Even so, the council has been considering whether to sell the 120 hectare site to developers Helioslough -- a joint venture between logistics firm Helios Properties plc and Slough Estates plc -- so that the terminal can be built. Helioslough argues that its plans follow government policy to transport more goods by rail.
St Albans City Council has been opposing the proposal. Although planning permission was originally refused, after a second appeal by Helioslough communities secretary Eric Pickles granted preliminary consent in December 2012.
St Albans Council applied for a judicial review of that decision in February 2013, without success, and Mr Pickles gave full approval last July, saying that the benefits outweighed
harm to the landscape.
The controversy has been reinforced by a determined local campaign to block the scheme, including a petition which has most recently attracted more than 1,800 signatures in 24 hours. The organisers of the 'Don't Sell Green Belt to Helioslough' campaign say the county council's prime responsibility is to local residents.
The High Court has rejected St Albans Council's claim that Mr Pickles acted illegally when he allowed the developer's appeal, and the council now has until 13 April to decide whether to challenge that ruling.
The county council, meanwhile, is waiting until the legal dust has settled before making a final decision about the site.