Posted 13th March 2015 | No Comments
Landslip line reopens three weeks early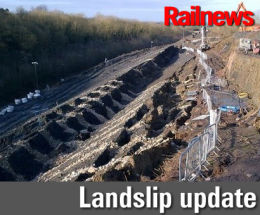 A main line which was threatened by a landslip in a cutting between Leamington Spa and Banbury at the end of January has reopened.
The movement of more than 350,000 tonnes of spoil at Harbury meant that more than 130 trains a day had been diverted, and for a while Network Rail had predicted that the line would not be safe to use again until just before Easter.
Trains affected had included passenger services run by Chiltern Railways and CrossCountry, as well as some 50 freight trains daily.
The first train to use the line with passengers on board this morning was the 05.15 Chiltern service from Birmingham Moor Street to London Marylebone.
Network Rail chief executive Mark Carne said: "The reopening, three weeks ahead of schedule, is welcome news for passengers and freight operators. It is also a testament to the hard work of hundreds of people who have worked 24 hours a day to make it possible.
"Everything was done to reopen this essential line – which is relied upon by thousands of passengers every day and used to transport thousands of tonnes of freight – as safely and quickly as possible.
"I thank passengers and the residents of Harbury for their patience while we carried out this vital work. I can assure them that the ongoing repairs being made are long term solutions which will significantly reduce the chances of similar incidents in the future."
Chiltern managing director Rob Brighouse was also relieved. He said: "The Chiltern Main Line is a vital link for both commuters and business travellers and we are delighted to restore direct services between London and the West Midlands.
"Thanks must be given to our partners at Network Rail, who have worked tirelessly, day and night to make the area safe and to our passengers for their patience. During the closure we introduced a reduced fare structure and we can announce an extension of this for both day and season tickets until the end of April."
CrossCountry managing director Andy Cooper added: "Getting the line open again before the large numbers of people expected to travel this weekend to visit their family for Mother's Day is great news for our customers. We are thankful to Network Rail's engineers for their tremendous efforts in beating their earlier estimate of an Easter reopening, and especially to our customers for their patience and understanding while the work was completed."
Harbury cutting has suffered from landslips since it was built more than 150 years ago. Network Rail will remove more than 300,000 tonnes of material to regrade the slope to make it more stable and less vulnerable to landslips. The long term repairs are expected to take several months.