Posted 1st March 2015 | 7 Comments
Rail franchising faces 100-day deadline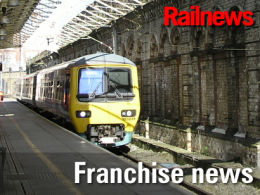 LABOUR has promised that it would start changing the law to allow a public sector operator to compete for rail franchises within 100 days of being elected.
The party's transport secretary Michael Dugher has told an audience in Leeds that there would be a 'level playing field'.
His pledge comes as a consortium of Stagecoach and Virgin takes over Intercity East Coast services after more than five years of public ownership.
Mr Dugher has already signalled the end of rail franchising as such, saying that he would 'put it in the bin'.
He said: "The end of East Coast Trains will be a hammer blow for passengers, taxpayers and employees alike. David Cameron's ideological sell off has ended a public sector service, which has delivered over £1bn to the Treasury, kept fares down, had record passenger satisfaction and engaged the workforce with unparalleled success.
"It is clear that when it comes to transport, people have a straight choice – the status quo or Labour's better plan. Labour will start the process of legislating in the first 100 days of a new Parliament to allow a public sector operator to be able to take on lines and challenge the private sector on a genuinely level playing field.
"Labour will also hold a speedy review of rail franchising to replace it with a system fit for purpose and create a strong passenger voice within a new strategic body for running the railways."
Meanwhile, RMT general secretary Mick Cash has condemned the transfer of East Coast back to the private sector.
He said: "It is a national disgrace that the government is bulldozing ahead with the re-privatisation of the East Coast Main Line despite all the figures showing that the current public sector operator is handing over a billion pounds back to the British people while delivering huge improvements in service and customer satisfaction.
"It is simply ludicrous to even contemplate reprivatisation when not only have there been two previous private sector failures on the East Coast route but when the public-sector rescue operation has been such a stunning success. This is pure industrial vandalism."
Reader Comments:
Views expressed in submitted comments are that of the author, and not necessarily shared by Railnews.
Funny enough last time Labour were in opposition, they promised to reverse privatization. Can't believe them this time around either.

There is already an alternative to Franchises and that is a Concesssion which is how London Overground works where TFL take all revenue and pay a company to run the service.

In fact, given the large losses Northern railways incur it would make more sense to at least run the present Northern franchise as a concession accountable to the new Rail North body which is similar to TFL .

Whether TPE would be better as a franchise or concession would also need to be decided . But a concession while electrification and upgrade is undertaken might make more sense as it could avoid needless compensation when engineering work closes lines for electrification and upgrade.

Odd how announcement of new ECML franchise includes a large sum returned to the treasury in a similar way as DOR service has done !

The worst thing that ever happened to our railway system was Nationalisation after WW2 (would mass cuts under Beeching have happened had they been independent companies, would we have been building steam engines and lining them up on scrap lines within a few years, and would the unions have had such a devastating effect on our transport system through strikes in the 1960's and 70's), the thought of a repeat of that is grim beyond belief. Governments can never plan beyond the next election, and should never be allowed to run anything more important than a oo gauge model railway...

First of all its not going to happen. Any delay will then be blamed solely on the Government and local MPs. Its best to have all the criticism going to an intermediary - ie the Train Operating Companies. But the real problem with the Railways at the moment is the same as the old British Rail. and that is the railways are run for the benefit of the RMT and the staff - not the Passenger/Customer. I am fed up with litter strewn carriages and blocked on-board Toilets. Customers don't like it. You wouldn't find it John Lewis or Marks and Spencer - so you shouldn't find it on any train. There should be someone at the next major Station who can fix it. I don't like being told 'its not my problem' by rail staff. I have done my fair share of working with 'purists' on private Steam Railways. They soon realised that if the Customer wants Thomas the Tank Engine - thats what they get if you want them visiting your line and giving them your money.

(A bit of an exaggeration, I suggest. And who is strewing the litter and blocking the toilets? Not the staff, but passengers with no consideration. Thankfully, they are a minority.--Editor.)

More hot air from Labour. Maybe he meant to say 'within 100 years of being elected'. In well over a decade in power what did they do about franchising and this brilliant idea to allow a public sector operator to compete? Absolutely nothing.

Oh, and a new strategic body for running the railways? What a short memory you have Michael, Labour created, then abolished, the SRA.

Now as things finally seem to be settling down, with deep alliances etc., they want to throw the baby out with the bathwater and create another decade of indecision, uncertainty and spiraling costs.

The only good thing Labour did for the railways last time they were in power was to (eventually - after a series of losers) put Lord Adonis in charge.

That's going to complicate the Northern/TP franchises if Labour win. If changing the law is one of the first things they'd do, they'd have to interrupt the tendering process to give this new public body the chance to put together its own tender. That in turn could delay everything if we're not careful. But if Labour decide to let the franchise in progress proceed as they are, that's going to look a bit feeble, especially as - one would think - a highly subsidy-dependent franchise such as Northern would be one of the best candidates for this sort of public ownership.